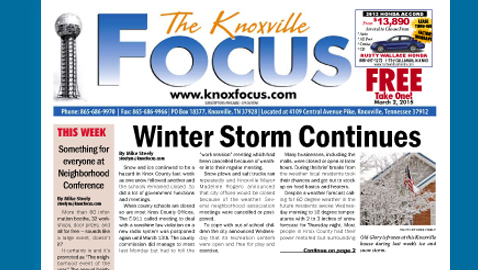 Winter Storm Continues
By Mike Steely
steelym@knoxfocus.com
Snow and ice continued to be a hazard in Knox County last week as one snow followed another and the schools remained closed. So did a lot of government functions and meetings.
When county schools are closed so are most Knox County Offices. The E-911 called meeting to deal with a sunshine law violation on a new radio system was postponed again until March 13th. The county commission did manage to meet last Monday but had to roll the "work session" meeting which had been cancelled because of weather into their regular meeting.
Snow plows and salt trucks ran repeatedly and Knoxville Mayor Madeline Rogero announced that city offices would be closed because of the weather. Several neighborhood association meetings were cancelled or postponed.
To cope with out-of-school children the city announced Wednesday that its recreation centers were open and free for play and exercise.
Many businesses, including the malls, were closed or open at later hours. During the brief breaks from the weather local residents took their chances and got out to stock up on food basics and heaters.
Despite a weather forecast calling for 60 degree weather in the future residents awoke Wednesday morning to 16 degree temperatures with 2 to 3 inches of snow forecast for Thursday night. Most people in Knox County had their power restored but surrounding counties spent the week shivering and using alternative heat sources including propane heaters and fireplaces. Cumberland County suffered the worst with devastation that one resident there described as looking like a tornado had hit. Governor Haslam made a trip there to view the damage and, at the beginning of last week, declared Tennessee a major disaster area.
While some thawing took place Wednesday, the snow began that evening and by Thursday morning the Knox County area was blanketed with another 4 to 5 inches of wet snow. Knox County schools remained closed all week due to the weather.
As the snow and ice began two weeks ago concern began to grow about those elderly and handicapped people who could not get out of their homes. Some meals normally delivered each day to those homes missed a day and agencies were calling on volunteers with four-wheel drive vehicles to help out.
The Knox County Sheriff's Department was involved in helping with a special program.