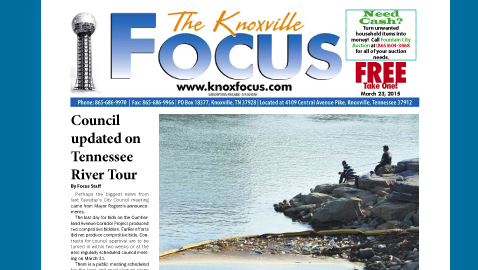 Volunteers needed for Ijams River Rescue
Over the past several months, The Focus has been documenting the pollution problem of our Tennessee waterways on 24×7.knoxfocus.com. 
We will continue to document the water conditions on an ongoing basis.   With recent snow and heavy rain, the pollution problem has only become worse. Currently the good people at Ijams Nature Center are doing the most they can on such a limited budget. We at The Focus applaud the hard work and dedication of this organization. However, they cannot go at it alone.  The organization is calling for volunteers from the community to help and become active in cleaning our river beds. We as a community should and must respond to this call for action if we want to maintain our quality of life.
This is the water we drink from, this is the water that has the fish that people eat. This is the waterway that makes Knoxville beautiful. We encourage everyone to get involved.
Dan Andrews
There are still volunteer spots available for Ijams Nature Center's 26th annual River Rescue of the Tennessee River on Saturday, April 11. The community-wide annual event covers 30 different cleanup sites and averages around 1,000 volunteers on Knoxville's river and creek tributaries.
The River Rescue will be augmented this year by the "Tennessee River Tour," a collaborative river cleanup in eight cities within three states. The project is led by 2013 CNN Hero of the Year, Chad Pregracke, and his organization, Living Lands and Waters.
For more information on how to volunteer for the Ijams River Rescue, please call 865-577-4717, ext. 124 or visit www.ijams.org. For a schedule of events during the Tennessee River Tour, please visit www.tennesseerivertour.org.
Volunteers for the Ijams River Rescue spend several hours helping to pick up trash and debris that is clogging and polluting Knoxville's river and creeks. Volunteers may come as individuals or in a group, such as with family, friends, corporate teams, scout troops, or church groups.
Bags and gloves are provided to volunteers for the cleanup. Each cleanup location has a "site captain," who assists volunteers. This year, Ijams staff will align volunteers interested in leading a cleanup location in the future with a site captain for training experience during the River Rescue.
The River Rescue is the central focus of Knoxville's part in the Tennessee River Tour. The Living Lands and Waters barge will be docked at Volunteer Landing from April 9-15, and will display all of the trash that is removed from Knoxville's waterways during the River Rescue. An estimated 7 tons of trash was removed during the River Rescue last year.
From 6-8 p.m. on April 11 following the River Rescue, River Sports Outfitters will host a "Pint Nite" at Ijams Nature Center. Volunteers from the River Rescue will receive their first drink free. The Pint Nite will have live music and will benefit a new program at Ijams called River Rangers.
Additionally, all participants receive a "River Rescue" t-shirt to commemorate their efforts.
In addition to assisting with the River Rescue event, Living Lands and Waters will make a push for water quality education with daily high school field trips to its "floating classroom" on the barge. Five tree planting days have been organized in various parts of town along the waterways to improve the river and creek banks with the planting of 500 trees at each site. There will also be several events held to benefit and raise awareness of local nonprofits that already work regularly in Knoxville to improve our waterways.