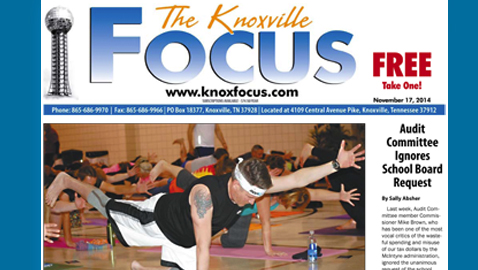 'Where Inspiration Meets Perspiration'
By Joe Rector
On Saturday morning, Nov. 8, the parking lot at Bearden United Methodist Church filled with cars from other areas of Tennessee and other states as people arrived to participate in a yoga workshop offered by former professional wrestler Diamond Dallas Page.
Dmitriy Smolensnky, soon to become an instructor of the yoga program, put the event together. He works in cancer research and asked Page, whose fiancée Brenda is a cancer survivor, to host the workshop. Smolensky is donating his proceeds to cancer research and thanks BUMC for donating the use of the facility.
Diamond Dallas Page is confident in his new venture: DDP Yoga. With a slogan, "It ain't your moma's Yoga," Page has produced a yoga system that appeals to people from all ages and body types.
"I once said I'd never be caught dead doing yoga," he said. However, after rupturing two discs in his back during his wrestling career at the age of 42, Page began working with it. He incorporated elements from the rehabilitation programs that he'd used throughout recoveries for knee and shoulder injuries. Page included exercises that offered dynamic resistance that brought on a "slow burn" to muscles.
Page declares, "DDP Yoga is where "inspiration meets perspiration."
At first he couldn't tell much difference, but within 3 months, Page was back in the ring. From that point on, he worked to develop the entire yoga system that is so popular today. The modified exercise program helps to break up scar tissue so that flexibility and strength increase. He adds that DDP Yoga has a low impact on the body's joints.
He says DDP Yoga is more about "T and A"- tone and attitude. The program is for people who aren't interested in regular yoga programs. He says that although his system is not a weight-loss program that students have shed hundreds of pounds.
"At the first workshop I ever held, three people arrived using canes and walkers. They were able to do the workout and greatly increase their overall functioning," Page said. "We have plenty of testimonials from people who began DDP and who have been able to enjoy their lives more fully because of it."
Adam Meador, who lives in Hendersonville, TN, and his wife Sara were in attendance Saturday. He began working with DDP Yoga in February 2013 and toned up and improved his conditioning until December. He was then diagnosed with endocarditis. On December 20, he underwent open heart surgery for a valve replacement. Meador credits DDP Yoga for helping him to recover quickly. After only 4 months he began full workout and credits the program for aiding the recovery.
Diamond Dallas Page is no stranger to obstacles. Even as a child, he faced them. At a young age, he excelled as a football and hockey player. However, at 12 he was hit by a car and injured so badly that he could no longer play those sports again.
Page took up basketball.
"I stunk at it and rode the bench. I swore to myself that I would never again ride the pine."
He worked on his game for 5 hours a day and became a starter on his high school team.
Page also reveals that he is dyslexic and struggled with reading on a third grade level. With the same commitment to DDP Yoga, he has worked to become a much better reader now.
These days, Diamond Dallas Page travels all over the U.S. and Canada as he holds workshops and instructs students. He includes information on nutritional foods in those sessions. His aim is to reach as many people as possible with the good news that they can improve their physical condition without having to spend large amounts of money on machines that place stress on their joints.
Home now is Smyrna, Georgia, where Diamond Dallas Page spends time with his two daughters and new fiancée Brenda. He is a friendly individual who never meets a stranger and who is passionate about helping others improve their lives through DDP Yoga. More information is available about all aspects of DDP Yoga at www.ddpyoga.com.