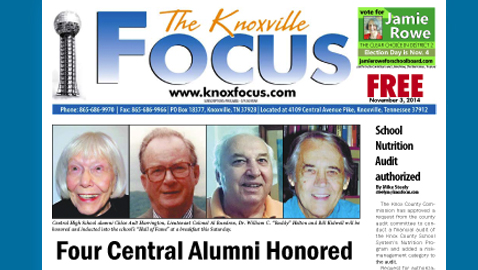 Four Central Alumni Honored
Two artists, a decorated career veteran and a noted educator are the distinguished alumni nominated to the Central High School "Wall of Fame" for 2014. This year's honorees are Chloe Ault Harrington, Class of 1935, an award-winning Fountain City artist; Lieutenant Colonel Al Bundren (d. 2006), decorated West Point graduate with an outstanding military career; Dr. William C. "Buddy" Helton, Class of 1952, Alcoa School superintendent, business owner and a noted educator; and Bill Kidwell, Class of 1954, businessman, award-wining artist and supporter of Fountain City Town Hall.
These outstanding alumni will be honored at the 13th Annual "Wall of Fame" Breakfast to be held on Saturday, November 8 at 9 a.m. at Central Commons, Central High School, 5321 Jacksboro Pike. The event will feature a video production of interviews with the honorees and will highlight the four graduates whose accomplishments and values demonstrate the achievements of past graduates and the potential of Central's future graduates.
Tickets are $20.00 per person and may be purchased in person at the school office, or by contacting Larry Smith at 922-5433 or Courtney Shea at courtshea@aol.com.
The Tennessee River Clean Up
By Dan Andrews
andrewsd@knoxfocus.com
Chad Pregracke, Founder of Living Lands and Waters and "2013 CNN Hero of the Year," stopped in Knoxville last week to promote the "Tennessee River Tour" which is a river clean-up project that will happen in Knoxville during April 2015.
Pregracke's passion and concern for the environment were quite evident.  He made it a point to stress that he is not trying to compete with the local environmental groups, but to highlight them.  He also hopes that creating a larger awareness of what is in the drinking water in Knox County will make more people take better care of our environment year round.
His operation, Living Lands and Waters, is unique. For next year's "Tennessee River Tour," it will host educational workshops for students and adults, river cleanups, open houses, and other conservation activities to increase awareness of the importance and value of the Tennessee River in eight cities within three states. His organization will even bring in a barge complete with a "floating classroom."
The press conference occurred just days after the public announcement that the Fort Loudon Lake Association was to close on October 31 due to lack of funding. The closing has led some local environmental leaders to consider seeking short-term outside help.
Such a large operation coming to Knoxville while a smaller, local one closes raises the questions: What is the current state of water pollution and litter problem in Knoxville?  What can regular citizens do to help?
The Focus recently investigated Governor Ned McWherter/Riverside Landing Park on the Tennessee River to find some answers to these questions.  This city-run park is a drop off location for river trash pickup. Before our investigation, mounds of river trash secured in clear garbage bags were often left out in the open for days and several cosmetic and safety issues were found as well.
City officials took swift action once informed of the park's status. The trash drop off and removal process now has a better schedule, minimizing the length of time before the bags are removed.
The city has also quickly addressed an issue with the lights of the park's parking area. The formation of corrosive bug residue was interfering with the illumination of the lights. That issue has now been resolved.
In addition, the city has installed new, cleaner portable restrooms, and has begun the process of clearing overgrown brush.
The City of Knoxville has over 80 parks. They have a hard working crew with fierce dedication to keeping our city parks beautiful.  However, they need the public to let them know when issues arise.
In Knoxville, that process is begun by simply dialing 311. Under the leadership of Russ Jensen, 311 has become the ultimate tool to cut government red tape. Mr. Jensen, as well as the director of the Department of Public Service, David Brace, encourages the citizens of Knoxville to use 311.
Editor's Note: To view Dan Andrews' full investigation of McWherter Park and ongoing investigation of Second Creek, please visit http://24×7.https://www.knoxfocus.com/.