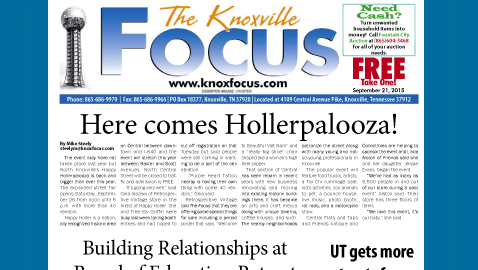 Here comes Hollerpalooza!
By Mike Steely
steelym@knoxfocus.com
The event may have not taken place last year but North Knoxville's Happy Hollerpalooza is back and bigger than ever this year. The expanded street fair opens Saturday, September 26 from noon until 5 p.m. with more than 40 vendors.
Happy Holler is a nationally recognized historic area on Central between downtown and I-640 and the event will stretch this year between Baxter and Scott Avenues. North Central Street will be closed to traffic and admission is FREE.
"It's going very well," said Gina Alazawi of Retrospective Vintage store in the midst of Happy Holler. She and Tree Ely Griffin were busy last week taking booth entries and had hoped to cut off registration on that Tuesday but said people were still coming in wanting to be a part of the celebration.
"Purple Heart Tattoo nearby is having their own thing with some 40 vendors," Gina said.
Retrospective Vintage told The Focus that they are offering some special things for sale including a period poster that says "Welcome to Beautiful Viet Nam" and a "really big shoe" chair shaped like a woman's high heel slipper.
That section of Central has been reborn in recent years with new business renovating and moving into existing historic buildings there. It has become an arts and craft mecca along with unique taverns, coffee houses, and such. The nearby neighborhoods patronize the street along with many young and not-so-young professionals in Knoxville.
The popular event will feature food trucks, artists, a Tai Chi rummage sale, kid's activities, zoo animals to pet, a bounce house, live music, photo booth, rat rods, and a motorcycle show.
Central Flats and Taps and Friends Antique and Collectibles are helping to sponsor the event and Linda Alston of Friends said she and her daughter, Jessie Evans, began the event.
"We've had as many as 6,500 people in and out of our store during a past event" Alston said. Their store has three floors of items.
"We love this event, it's our baby," she said.