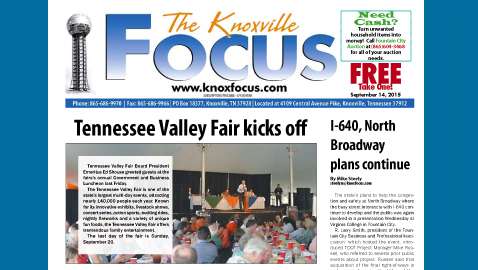 Area seniors remember 9/11
By Ken Lay
A group of area senior citizens commemorated the 14th anniversary of 9/11 Friday at the John O'Connor Senior Center by remembering the first responders who were injured or perished.
In addition to remembering those heroes, the group of 200 seniors also participated in disaster preparedness discussions.
Many of the senior citizens who participated in the day's activities are members of the Senior Corps, Foster Grandparents and Senior Companion programs, which made the disaster preparedness discussions crucial.
"Our senior citizens who participated in these discussions are a part of our Foster Grandparents or Senior Companions program," said Knoxville CAC senior volunteer program coordinator Eden Slater. "Our foster grandparents work in the schools and we talk to them about keeping the children calm should a disaster happen while those children at school.
"Some others are our senior companions and in those situations, you may have a person with another elderly person and we emphasize making sure that those people have enough food or medicine should they be stuck at home."
In addition to stressing the importance of being prepared for a disaster; the event, which was open to the public, was a time to remember that fateful day (Sept. 11, 2001) when life in the United States was forever changed.
"September 11 [2001] is a day that we should never forget," Slater said. "Some people, now, weren't born on that day.
"It's important for those of us who were here to always remember what happened. It's one of those days that people remember where they were and what they were doing. I was 11, so I don't remember much about it."
The events of Friday were part of the nationwide My Good Deed, a project founded by the Corporation of National and Community Service. Also, the Federal Government declared Sept. 11 a National Day of Service in 2009.
In addition to participating in a safety fair and panel discussions, participants at the event also sent Thank You Cards to local first responders.
Senior Solutions, East Tennessee Children's Hospital, Knoxville Police Department and Knoxville EMS were among those organizations who had booths at the safety fair.