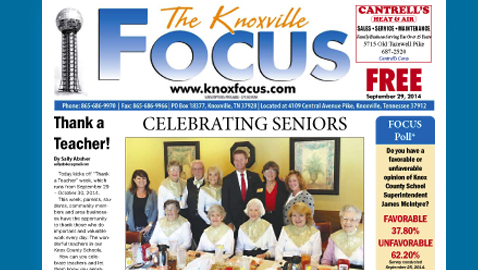 Golden Cloggers retire
By Mike Steely
steelym@knoxfocus.com
The South Knoxville Senior Center's Golden Cloggers were honored at Shoney's Restaurant on Alcoa Highway last Thursday. The last three active cloggers were joined by former cloggers and well-wishers as they officially hung up their tap shoes. Williamsburg Villas, one of the many venues the group frequented, sponsored the lunch.
Back in 1993 Zurma Caldwell was teaching clogging at the Church Street United Methodist Church. Two sisters, Joanne Reese and Mary Simpson enjoyed the class and talked their sister, Betty Brannum into joining the class.
Betty so enjoyed clogging that she began asking friends to join in the fun and exercise. After teaching the class a few clogging numbers, Caldwell started the "Golden Cloggers" with the thought of putting some smiles on some faces.
The Golden Cloggers began clogging at nursing homes, libraries, churches, civic meetings. It was fun for the senior cloggers and was all for free.
In 1999, Caldwell retired from teaching and turned the class over to Betty Brannum. By 2007, the Golden Cloggers were calling the South Knoxville Senior Center their home and represented the center at various events in the area. All of the cloggers are beyond their 70th year, with many in their 80s.
"We've had members who broke hips and come back to clog," Mrs. Brannum said.
She said their favorite tunes to clog were "Rocky Top" and "Alley Cat" and added that the group performed at the 100th Knoxville High School Reunion in 2010. Many of the cloggers, including Mrs. Brannum, attended that school.
Betty turned the teaching over in 2011 to Marian Broome who was in charge until the group's final performance on May 12th of this year at the Holston Health and Rehabilitation Center on Boyd's Bridge road, with only three members in that troop who were still clogging. Betty Brannum said she got to a point she could not clog and announce the clogging numbers so Richard Johnson, a retired fireman, became the announcer.
They dedicated that last clogging event to Ethyl Julian who had just turned 104 years old. The final three cloggers were Betty, Linda Williams and Marian Broome. Original members from 1993 also included Lona Beaver, Dorothy Bishop, Bidy Bowles, Carolyn Briggs, Gloria Dessart, Jamie Fox, Barbara Frye, Betty Grover, Janice Kennedy, Lorraine McPherson, Helen Murtaugh, Virginia Raulston, Jonne Reece, Betty Richardson, Doris Rogers, Mary Simpson, Jean Stevens, Betty Yardley and Doris Turner.
More recently the Golden Cloggers consisted of 12 women and included Lucy Ann Caldwell, Joyce Bacon, Donna Schroder, Carolyn Keller, Betty Maples and Betty Clark.
Clogging has its origin in Wales and England and consists of heel and toe tapped shoes in time with music. The dancing has been long popular in Appalachia and is great exercise and takes a lot of stamina and rhythm.
"It keeps you young, you can't clog and worry about your troubles," she told The Focus.