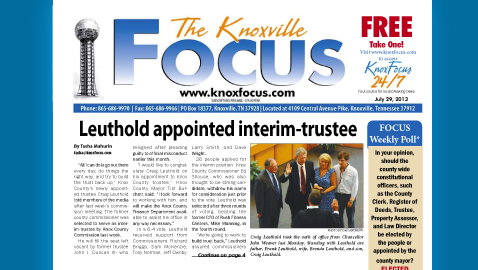 Click here to view this week's paper online.
Leuthold appointed interim-trustee
By Tasha Mahurin
tasha@knoxfocus.com
"All I can do is go out there every day, do things the right way, and try to build the trust back up," Knox County's newly appointed trustee Craig Leuthold told members of the media after last week's commission meeting. The former county commissioner was selected to serve as interim-trustee by Knox County Commission last week.
He will fill the seat left vacant by former trustee John J. Duncan III- who resigned after pleading guilty to official misconduct earlier this month.
"I would like to congratulate Craig Leuthold on his appointment to Knox County trustee," Knox County Mayor Tim Burchett said. "I look forward to working with him, and will make the Knox County Finance Department available to assist his office in any way necessary."
In a 6-4 vote, Leuthold received support from Commissioners Richard Briggs, Sam McKenzie, Tony Norman, Jeff Ownby, Larry Smith, and Dave Wright.
26 people applied for the interim position. Knox County Commissioner Ed Shouse, who was also thought to be strong candidate, withdrew his name for consideration just prior to the vote. Leuthold was selected after three rounds of voting, beating the former CFO of Rush Fitness Centers, Mike Manning, in the fourth round.
"We're going to work to build trust back," Leuthold assured commissioners after receiving the appointment.
Although currently an employee of Knox County Property Assessor Phil Ballard, Leuthold has 16 years of experience in the trustee's office. He was also served two terms as a Knox County commissioner and held the vice chair seat for two of those years. Leuthold holds a B.S. in Business Administration and Finance from the University of Tennessee and is a certified public administrator.
"I want to let you know that you won't be disappointed," he said. "We're going to start…first thing in the morning and we're going to build the trust back one day at a time. You can't expect to have the trust back overnight but I can assure you we're going to do things right, we're going to do things transparent, and we're going to do them in the right way."
The Knox County trustee's office is up for election in 2014.