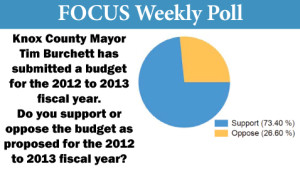 By Focus Staff
The latest Knoxville Focus poll shows Knox Countians overwhelmingly favor Mayor Tim Burchett's budget.  Almost 400 Knox Countians were asked the question, "Knox County Mayor Tim Burchett has submitted a budget for the 2012 – 2013 fiscal year. Do you support or oppose the budget as proposed for the 2012 – 2013 fiscal year?"
A whopping 73% support the budget as proposed by Mayor Burchett.  County Commissioners are currently discussing the budget and Superintendent of Schools Jim McIntyre has asked for 35 million new dollars, which would necessitate a 35 cent increase in the property tax.
Every district in Knox County posted healthy margins in favor of Burchett's budget.  The Third Commission District is the district which most strongly supports Burchett's budget with more than 82% of respondents saying they favor the Mayor's proposal.  Another district comprised of all city residents, the Second District, also strongly supports Mayor Burchett's budget.  The Fifth District, which is Farragut, as well as East and South Knox Countians all registered more than 76% in favor of Burchett's budget.
The least support for the Mayor's proposed budget was in the Fourth District, which is Sequoyah Hills and westward, but still more than 64% of voters were in favor of Burchett's budget.  The Fourth and the First Districts were the only districts where support for Mayor Burchett's budget dipped below 70%.
These poll results indicate a heavy majority of Knoxvillians and Knox Countians have not been moved by the intense campaign waged by Superintendent McIntyre and his allies in the Chamber of Commerce and the local news media.