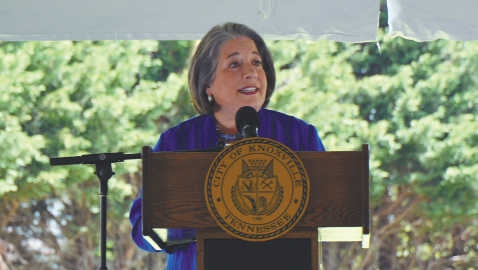 By Mike Steely
steelym@knoxfocus.com
Your city property taxes will probably go up about $84 a year next year if the Knoxville City Council approves the budget that Mayor Madeline Rogero is proposing. Rogero announced her budget Thursday in a huge gathering of public officials and the general public at Christenberry Elementary School. The city property tax rate has not been raised since 2006.
"We're on the right track in Knoxville," she said. "Don't you hear the buzz?"
Hundreds of people attended the Mayor's luncheon in a large tent next to the school to hear her talk about current and planned projects in the city. She said the unfunded pension plan for city employees was a "legal obligation" that went through under a previous administration and was approved by city voters. The plans are to put $7.4 million more into the fund, or $23.4 overall next year.
The city is also obligated to give a 2.5% raise to city employees and she will ask the council for $1.7 million to cover it.
The budget talks begin Tuesday as the City Council is asked to fix the annual appropriations and, in another ordinance, asked to raise the taxes on real estate. Both come up as "first readings" meaning the final decision may come in May.
"Seventy percent of the budget is allocated for city employees and services," she said. She also said that she is limiting her own staff's increases to $2,500 each for those making top salaries.
She said there is $350,000 in the budget for the Fountain City Lake's water quality, $ 2.5 million allocated for sidewalks at Old Broadway and I-640, and $ 185,000 for bicycle transit projects.
Under her proposal, Knoxville Area Transit (KAT) will get $10.3 million; $5.8 million will go to street and bridge repairs; and $1.44 to rework the Merchant Drive and Clinton Pike intersection.
Mayor Rogero said she wants to add two new engineering positions and will continue to fund the Office of Neighborhoods and to hire the director an assistant. She's also proposing $500,000 to manage traffic flow and $250,000 to the Knoxville Botanical Gardens.
Her proposal to take $250,000 to a public bathroom at Market Square received a large applause and she wants $850,000 for improvements to the Marble Alley area downtown. $300,000 is being asked to fund the improvements in the Magnolia Warehouse District and Corridor, $500,000 in historic preservation projects, and $1 million for Greenway projects.
Rogero is proposing $374,000 to various arts and cultural groups, $250,000 to the public arts foundation, and an overall investment in the arts of $965,370.
"We need to stay on track. We need to keep the momentum building. We need to continue to invest in building a great city," Mayor Rogero said.