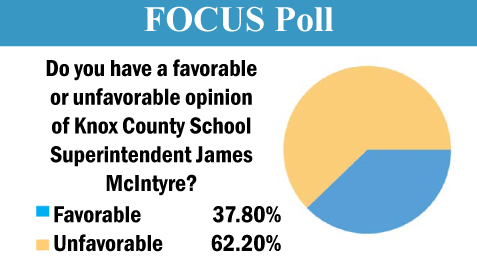 By Focus Staff
The Knoxville Focus poll tested the favorability and unfavorability ratings for Superintendent of Schools Jim McIntyre.
The results among likely voters indicates a trend of falling popularity for McIntyre.  Only one district in Knox County showed McIntyre with a favorability rating above 50%.  More than 67% of voters inside the Fourth District said they had a favorable impression of McIntyre.  The Fourth District is the heart of Sequoyah Hills and home to many of the Chamber of Commerce crowd.
In every other district in Knoxville and Knox County McIntyre's favorability rating plummeted.  McIntyre was as unpopular with women as he was with men.
Click here to view full results.