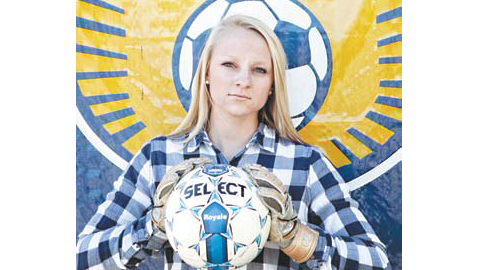 By Steve Williams
Berean Christian School's Anna Mershon, taking advantage of the TSSAA's co-op program, experienced a state softball championship as a sophomore two years ago and almost got to enjoy another one this past spring.
Since Berean Christian does not have a softball program, Mershon played four years for Gibbs High School. Anna and her Gibbs teammates captured the Class AA state title in 2012. Moving up for their first season in Class AAA in 2014, they finished second, falling to Dickson County 4-1 in the finals.
Wearing a knee brace after suffering a torn ACL midway through the basketball season playing for Berean, Mershon contributed as a pinch hitter as Gibbs battled back through the losers' bracket at the state tourney in Murfreesboro.
Mershon played goalie for Berean's soccer team last fall and was team captain and Defensive Player of the Year in District 2 A-AA.
For her versatility as a Lady Eagle athlete – and Berean and Gibbs have the same nickname – Mershon is Berean Christian's Athlete of the Year for 2013-14, announced Athletic Director Chris Lindsay.
"Anna was our girls basketball team's 'Everything' until she got injured, yet she only played on Friday nights as she had softball workouts Monday though Thursday at Gibbs," stated Lindsay via e-mail.
"Anna wanted to help our struggling young girls team and knew they needed her. That's the kind of kid Anna is. That's what made her injury extra sad … she was just trying to help Berean and got injured for her efforts. Anna is just an incredible person, not just an athlete."
Mershon, who had knee surgery June 2, will be attending Columbia International University in Columbia, S.C., starting this fall. She plans to play both soccer and softball for CIU, which will start its intercollegiate women's soccer program in the fall of 2015 and its softball program in the spring of 2016.
In previous seasons, before her injury, Mershon was primarily an outfielder in softball.
At the state, Mershon had a pinch-hit bunt single in the bottom of the eighth inning as Gibbs scored two runs and rallied past Wilson Central 4-3 to stay alive in the losers' bracket.
She also had a pinch-hit single to left field to drive in two runs as Gibbs avenged its tourney opening loss to Coffee County Central.
In the losers' bracket finals, Gibbs Coach Carol Mitchell used Mershon as a pinch hitter to lead off the bottom of the seventh inning and she was awarded first base when she was hit by a pitch. Ashley Daniels, pinch-running for Mershon, went on to score the winning run in a 7-6 victory over Soddy-Daisy.
As a junior, Mershon made the District All-Tournament team and received the Golden Glove Award. Playing with the knee injury as a senior, she earned the Eagle Award for leadership.
Mershon was a four-year letterman in basketball at Berean and began playing soccer as Berean's goalie her junior year. She became a two-time All-District honoree in soccer.
Mershon also excelled in the classroom with a 4.04 GPA and received the TSSAA Distinguished Scholastic Achievement Award. She plans to major in Bible and Intercultural studies at CIU and her desire is to combine sports with teaching as she ministers to others on the mission field.