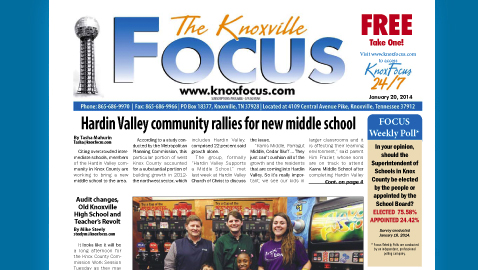 Click here to view this week's Focus online.
Hardin Valley community rallies for new middle school
By Tasha Mahurin
Tasha@knoxfocus.com
Citing overcrowded intermediate schools, members of the Hardin Valley community in Knox County are working to bring a new middle school to the area.
According to a study conducted by the Metropolitan Planning Commission, this particular portion of west Knox County accounted for a substantial portion of building growth in 2012- the northwest sector, which includes Hardin Valley, comprised 22 percent said growth alone.
The group, formally "Hardin Valley Supports a Middle School," met last week at Hardin Valley Church of Christ to discuss the issue.
"Karns Middle, Farragut Middle, Cedar Bluff … They just can't cushion all of the growth and the residents that are coming into Hardin Valley. So it's really important; we see our kids in larger classrooms and it is affecting their learning environment," said parent Kim Frazier, whose sons are on track to attend Karns Middle School after completing Hardin Valley Elementary.
Parent and organizer Kevin Crateau also addressed the issue recently before the Knox County Board of Education.
Cratuea told the Board the school was "not a want but a need" and added that the area had the highest growth rate of any other part of the county.
"I'm just asking," he said, "What's the plan and how can we help?"
The issues dates back to 2006, when a study by the Partnership for Education Facilities Assessment demonstrated Karns and Farragut Middle Schools are among the most overcrowded schools in Knox County- according to a ten year projected enrollment plan. Holston and Halls Middle were also noted in the plan as facing the same risk of a strain on capacity.
"I do support a new middle school for Hardin Valley," Knox County Commission Chairman Brad Anders, who represents the area on Knox County Commission, told The Focus. "I believe the community is doing the right thing by doing their research and approaching the issue in an appropriate way."
Addressing overcrowding across the Knox County school system, Anders added that Gibbs should also be on the list for a new middle school.
Thomas Deakins, who represents Hardin Valley on Knox County's Board of Education, also told the press last week that he fully supports the group's effort and has received several emails and phone calls regarding the issue.
The group plans to continue to petition local elected officials and the Board of Education through emails and public forum and has already reached nearly 700 likes on their Facebook page.