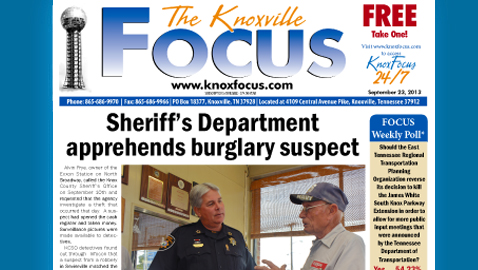 Click here to view this week's Focus.
Sheriff's Department apprehends burglary suspect
Alvin Frye, owner of the Exxon Station on North Broadway, called the Knox County Sheriff's Office on September 10th and requested that the agency investigate a theft that occurred that day.  A suspect had opened the cash register and taken money.  Surveillance pictures were made available to detectives.
KCSO detectives found out through  Infocon that a suspect from a robbery in Sevierville matched the description of the same suspect in the Fountain City Exxon theft.  Infocon is comprised of law enforcement agencies sharing information and pictures with each other by way of a special email account.
A tip was also called into Sevierville police and shared with KCSO and Knoxville Police that the suspect's last name was Biggs and drove a burgundy Ford Tempo which was used in other robberies.
On Sunday, September 15, KCSO officers located the suspect, Donald Biggs, at an apartment in Montgomery Village on Cook Drive.  He was taken into custody without incident.  The Ford Tempo was also found parked nearby
BIggs is being held without bond in the Knox County Detention Facility for violating probation.  Sevierville and Alcoa also have "holds" on Biggs.  He is also a suspect in the robbery of the Kitchen Diner located at 7355 Chapman Highway.  It was robbed on September 12.  Biggs is a suspect in a robbery in Alcoa on Sept. 14th at the Ken Jo Market as well.
Officers said a gun used in some of the robberies was a toy gun.