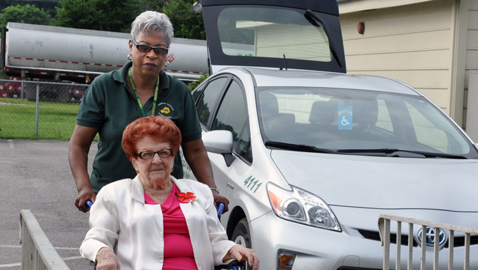 By Mike Steely
steelym@knoxfocus.com
The Focus found that the Community Action Committee's aging office offers so many programs for seniors that the information could not be contained in a single feature. Even this second installment will not cover all the programs the Office on Aging offers.
The Knox County Council on Aging is the advisory body to the Office on Aging and meets the second Thursday of each month, except for July and August, at 2 p.m. at the O'Connor Senior Center at 6111 Winona Street. The meetings are always open to the public.

The O'Connor Center
The John T. O'Connor Center, next to Caswell Park, is open to anyone 50 years or older and while there is no fee for membership, some classes held there do charge a small fee. The center has everything from senior computer classes to exercise, games, meetings, recreation, education and special events.
The center, operated by the Office on Aging, also offers an economically priced lunch at 11 a.m. until 12:30 and the center is open Monday through Friday from 8:30 a.m. until 4:30 p.m. You can call the O'Connor Center at (865) 523-1135 or find them on the internet at www.knoxseniors.org.

Project LIVE
Project LIVE, or Living Independently through Volunteer Efforts, helps seniors remain independent in their own homes by providing some services they need, such as house cleaning, home safety modifications and minor maintenance and yard work. All of these are performed by volunteers who are recruited by the Office on Aging. LIVE case managers visit older clients to assess their needs, refer them to services, help them apply for services, and do routine follow ups.

Senior Nutrition Program and Mobile Meals
Mobile Meals provides hot, nutritious weekday meals delivered to the home and served in congregate sites to qualifying elderly who are 60 years and older.  The volunteers visit the homes, deliver the meals, and check up on the elderly there. More than 825 elderly people receive meals each day, Monday through Friday. The visitation gives the volunteers a chance to check the condition of the elderly, their homes for safety and comfort, and security issues.
Kathryn F. Burke, Public Information Manager for the Office on Aging, says that lives have been saved when volunteers have reported that a client didn't open the door as usual. The Mobile Meals volunteers follow up with a phone call to a relative from the home and call local law enforcement if required. Many times it turns out the elderly person has fallen or has had a health crisis.
 "We can't count the number of times that we've heard 'Mobile Meals saved my life!'" Burke said.
The Mobile Meals Kitchen prepares up to 5,000 meals a day with food supplied by the school system. There are 60 routes covered every day by volunteers.

Affordable Medicine Options for Seniors
AMOS was started because of the number of elderly having to choose between paying their utilities, rent and food or paying for their prescription medicines. The program doesn't provide funding for the medicine but its well-trained staff of volunteers offers advice and referral services to resources that can give discounts or free prescriptions. The program helps seniors apply for those services. They also offer advice on which Medicare Part D is better for the individual person and helps them enroll.

CHIPS
CHIPS, or Computers for Homebound and Isolated Persons, connects seniors who are housebound and isolated by frail health with the world via the Internet. The program uses donated computers.

Knox County CAC Transit
The CAC Transit provides rides to medical appointments and essential errands for people who lack other means. The vans are life-equipped and fares vary. You can call them at (865)524-0319.
 "It is not competing with Knoxville Area Transit. If someone lives on a bus route we hope they will take the bus. If not then we can serve them," said Fred Massingill of the Office on Aging.

Knox PAWS
PAWS, or Placing Animals With Seniors, helps low income seniors find suitable pet companions at no charge.

RSVP
RSVP, or the Retired and Senior Volunteer Program, provides people 55 years old and older an opportunity to share skills and talents by serving community agency needs.
There are many other programs available at the Office on Aging. You can call (865)524-2786 for information.