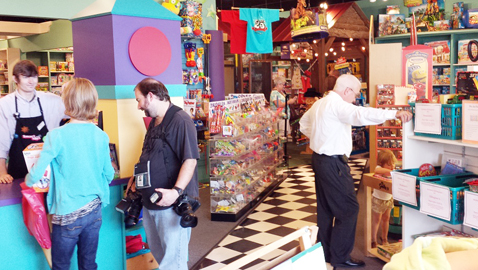 By Tasha Mahurin
Tasha@knoxfocus.com
More than 60 community supporters and ORNL Federal Credit Union (FCU) members and employees flocked to Smart Toys and Books in West Knoxville last week to participate in the 5th Small Business Counts cash mob presented by ORNL FCU.
"We want to thank ORNL Federal Credit Union and their employees for their support and appreciation," store owner Lynda Blankenship told                        .
ORNL FCU announced the innovative new program over the summer as part of an on-going effort to give back to the community. The cash mob-style program is designed to support local merchants in the 16 counties that the credit union serves.
The program was inspired by the recent flash mob trend. A cash mob is a group of people who assemble at a local business to make purchases as a gesture of support for that business as well as the overall community.
Smart Toys & Books serves children and families in Knoxville with a complete selection of games, books, toys and dolls designed to fascinate, challenge, and enlighten children of all ages. The charming boutique offers unique selections and a high quality product line not typically found at "big box" stores and other retailers. For that reason, the shop has been a favorite amongst locals for nearly three decades.
"As a locally owned and independent business for 28 years, we appreciate the focus on the importance of shopping local," Blankenship added.
Adding to the fun, the first 30 people who participated received a $25 gift card to use on any merchandise within the store, courtesy of ORNL FCU.
"At ORNL Federal Credit Union, we believe that small business counts. The concept of a cash mob is one that fits perfectly with our core value of community improvement," Chris Johnson, CEO, has said of the credit union's area wide cash-mob campaign.
"There are few better ways to build a community than through the support and advocacy of small business, and I hope this program will encourage people to share in our commitment to the well-being of these merchants and communities."
For more information about the Small Business Counts program or to nominate a local merchant for a cash mob, visit www.SmallBusinessCounts.com. Details of each cash mob are made available approximately one week in advance of each event.