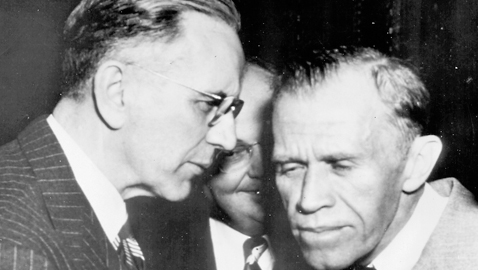 Percy Priest was an unlikely candidate for Congress and faced daunting odds to get to the House of Representatives in the first place.  Yet once there, he remained there until the day he died. Percy Priest was once described by William "Fishbait" Miller, Doorkeeper of the U. S. House of Representatives, as "ugly as homemade sin," but possessed of a remarkably sweet and kindly nature.
Born April 1, 1900, in Maury County, James Percy Priest lived in Middle Tennessee for his entire life.  He attended both the State Teacher's College in Murfreesboro and Nashville's Peabody College. For several years, Percy Priest taught school in his native Maury County before beginning his true avocation when he became a reporter for the Nashville Tennessean.  Priest later became a member of the editorial staff for the Tennessean.  Percy Priest's first assignment for the Tennessean was as a sports writer, a truly pleasant duty for one who loved sports as well as he did.
At the time, Nashville was ruled by its colorful mayor, Hillary Howse.  Mayor Howse had been in power for quite some time, first winning election in 1909.  Howse was known to be protective of the many saloons in Nashville and once exclaimed, when asked whether he truly protected the activities of the saloons, "Protect them?  I do better than that.  I patronize 'em."
Like the Crump machine in Memphis and Shelby County, Hillary Howse extended favors and services to both the white and black communities.  Also like the Crump machine, Mayor Howse and his political allies paid the poll tax for those poor voters expected to support their ticket.  Howse ran afoul of a "good government" element largely comprised of local business leaders and resigned his office in 1915 after some allegations of missing ledgers and financial scandal.  Howse did not long remain out of the political spotlight.  The government installed by the businessmen was neither effective nor popular.  Hillary Howse came roaring back into office in 1923 after having found himself a wife and renouncing his former liking for the bottle.  Newly enfranchised women especially liked Howse's new persona and he was once again elected mayor.  He remained in office until his death in January of 1938.
In an age when newspapers are becoming scarce, it may be difficult for some readers to imagine two strong daily newspapers thriving in the same city.  The Nashville Tennessean had once belonged to Colonel Luke Lea, a former senator from Tennessee and a power during the gubernatorial administrations of Austin Peay and Henry Horton. Percy Priest worked for the Tennessean while it was owned by Colonel Lea, as well as when the newspaper was owned by Silliman Evans, a Texan who picked up the pieces after Lea's spectacular fall from power and grace.
The Tennessean routinely supported the reformers in Tennessee politics, save for when the state was run by governors Peay and Horton.  The rival newspaper in Nashville was the Banner, which was owned by the Stahlman family.  James "Jimmy" Stahlman was much more conservative and traditional in his outlook and was a strong supporter of Senator Kenneth D. McKellar, while the Tennessean delighted in bedeviling the senior senator and his political partner, E. H. Crump.  There were those who believed Silliman Evans not only wished to be a real force in Tennessee politics, but to take the place of McKellar and Crump.
The Tennessean and the Banner fought bitterly over public policy and candidates, with the former a voice for liberalism and the latter a beacon for more conservative policies.
Percy Priest taught Sunday School, loved to sing, and liked his job.  A slight, almost gnomish man, Priest was hardly a commanding and charismatic figure as Luke Lea had been; he was an unlikely candidate for public office.  Nashville's Congressional politics had changed dramatically during the decade of the thirties.  For decades, the Congressman from Nashville had been Joseph W. Byrns. By 1935, Jo Byrns was Speaker of the House.  Tall, craggy-faced, with a thatch of white hair and bushy black eyebrows, Jo Byrns had been invulnerable at the polls, but the Speaker had died suddenly June 4, 1936.  A fierce battle to succeed Speaker Byrns was held inside the Democratic primary and District Attorney Richard Atkinson beat Will Cheek by a mere fourteen votes.  Atkinson's hold on the district proved to be tenuous and he was especially disliked by Senator McKellar, who once snarled Atkinson suffered from a "diseased, foul mind."  Atkinson was toppled in the Democratic primary when he sought reelection in 1938 by Joseph W. Byrns, Jr.
Thirty-four years old at the time of his election, Joseph W. Byrns, Jr. might have had his late father's name, but he certainly did not possess the political skills amply demonstrated over the years by his sire.  Nor did the younger Byrns seem to have the same gracious disposition of his father.  Rebecca Harris Stubbs has written an excellent biography of Percy Priest and she recounts an interview done with the young Congressman Byrns by J. Lacey Reynolds of the Tennessean staff following the visit to America by Britain's king and queen.  Reynolds was shocked when Congressman Byrns blurted out, "What a couple of flat tires they turned out to be!"
Byrns went on to further criticize the royal couple and Reynolds, who was merely writing a routine story about the reaction of the members of the  Tennessee Congressional delegation to the British visitors, was shocked by the Congressman's poor choice of words.
Congressman Byrns ran for a second term in 1940 and faced Richard Atkinson and two other opponents in the primary.  While Byrns won, his three opponents tallied more votes than he did.  Byrns also made the mistake of not coming home to campaign that summer, insisting he was needed in Washington, an odd claim for a freshman Congressman to make.
Safely renominated, Congressman Byrns started a firestorm inside his district when he opposed President Roosevelt's call for conscription.  Voters inside the "Hermitage District" were appalled Byrns, who had run as an all out supporter of FDR, had taken the side of isolationist Republicans.  By September, there were rumblings that an Independent candidate would run in the general election.  Initially, speculation focused on former Congressman Dick Atkinson, but he had lost to Byrns twice and many concluded he would not be a strong candidate.
Eventually, colleagues at the Tennessean began promoting Percy Priest to run against Byrns and an editorial appeared in the Clarksville Leaf Chronicle supporting Priest.  By September 9, J. Percy Priest had announced his candidacy for Congress.
The odds facing Priest were far more than daunting, they were enough to depress the most optimistic person.  Having no money of his own, Percy Priest had little or no financial resources and was running against the Democratic nominee in a district that had been home to Andrew Jackson and one of the most Democratic in the country.  The incumbent also possessed perhaps, after General Jackson, the most famous name in the district.
The slight, balding Percy Priest began a frenetic campaign all across the Fifth District.  The two newspapers in Nashville, the Tennessean and the Banner, not surprisingly, took opposing sides. The Tennessean supported its own Percy Priest and his insurgent candidacy, while James Stalhman and his Nashville Banner backed Joseph W. Byrns, Jr.  It was a sign of how well liked Percy Priest was that Stahlman in his own column admitted Priest's good qualities, which were many.  Stahlman simply agreed with Byrns that the conscription bill was unneeded.
Priest tore into Congressman Byrns, hitting his opponent for having taken sides with the Republicans.  It was an effective attack and throughout the fall campaign, Percy Priest and his allies in the press, tarred "Little Joe" Byrns with being if not an actual Republican, a Republican sympathizer, which was quite nearly as bad.
The little newspaperman was shrewd enough to associate himself with other Democrats.  According to his biographer, Rebecca Harris Stubbs, Priest declared, "I want to stay on the job with President Roosevelt, Cordell Hull, Senator McKellar, Senator Stewart, Albert Gore and other Democratic Congressmen…"  Priest left out virtually no important Democrat, many of whom were actually supporting Congressman Byrns, as he was the official party nominee.
Senator McKellar, then at the peak of his popularity in Tennessee and running for his fifth term, made a statement in support of Congressman Byrns.  "A few people have asked me," McKellar said, "I am for Joe Byrns.  He is the Democratic nominee."
McKellar's junior colleague in the United States Senate, Tom Stewart, made a similar statement when asked whether he supported Congressman Byrns's reelection.
"Of course I am for Joe Byrns," Stewart replied, "just as I am for every other Democratic nominee in the November election."
Congressman Albert Gore joined Joe Byrns in touring Macon County.
Despite the support from other Democrats, Byrns was undermined when the Tennessean quoted Senator McKellar and Secretary of State Cordell Hull about the need for selective service.
Considering Percy Priest's profession, it is hardly surprising he had a flair for attracting publicity and the Tennessean was willing to give the candidate all he could stand.  The gaffe prone Byrns was reported as saying he did not intend to go home "and shake hands with the clodhoppers to stay in Congress." The Priest campaign promptly printed up official clodhopper cards and Clodhopper Clubs were formed.
The pull of the Democratic Party proved irresistible for many inside the Fifth Congressional District.  Congressman Byrns carried Macon, Montgomery, Robertson, Stewart and Trousdale counties, but he lost Davidson and Sumner counties, which were the two most populous counties in the district.  Percy Priest accomplished the impossible, winning the general election as an Independent candidate by some 3,500 votes.
It was the end of Joseph W. Byrns, Jr.'s political career.  He would go on to fight in World War II and retired to Florida, where he died.
Percy Priest would remain in Congress for the next sixteen years.
In 1956, Percy Priest was suffering from a serious ulcer and although he tried to avoid it, he required surgery.  Finally admitting himself to the hospital, Congressman Priest had the necessary operation and seemed to be improving.  The Congressman had thoroughly enjoyed watching a baseball game in is room, but he apparently suffered a stomach hemorrhage which took his life.
By the time of his death, Percy Priest had been gaining seniority and was quite good at his job.  Congressman Priest was almost universally well liked by both his colleagues and his constituents. His ability to win his first election as an Independent was a rare feat in Tennessee history.
Today, as one drives down the interstate headed west to Nashville, one can see the massive J. Percy Priest dam and remember the good natured little newspaperman who became a Congressman.