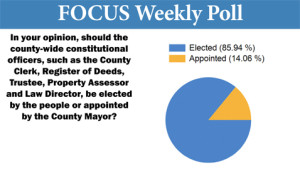 By Steve Hunley
The latest poll conducted by The Focus should send a message to the members of the Knox County Charter Review Commission. More than 85% of those polled favor keeping countywide offices elected rather than appointed. While the reason for reviewing the Knox County Charter has ostensibly been to work out a few small kinks in the system, some have long wanted the opportunity to reverse the decision made by the voters in rejecting a proposed Charter amendment that would have given the County Mayor the power to appoint the Law Director, Property Assessor, Trustee, and Register of Deeds.
The opinion was virtually the same amongst both female and male voters. Voters in every age category supported keeping countywide offices elected and every County Commission district favored retaining elected officeholders.
National pollsters frequently conduct polls with samplings of opinion of about the same number of those polled in Knox County.
Still, certain members of the Charter Review Committee will surely try and press ahead with giving the County Mayor the power to appoint currently elected offices. The Knoxville News-Sentinel has predictably been loudly ringing the same old bell to call home the cows and the Sentinel has complained that the reason voters rejected the proposed amendment was due solely to the wording employed by then Law Director Bill Lockett. There seems to be an inability on the part of The Sentinel and some of the professional do-gooders to accept the notion the people of Knox County simply preferred choosing their own officials. The offending question frankly plainly stated the obvious: do you prefer keeping certain offices elected rather than appointed. A healthy majority of Knox Countians did indeed prefer elected officeholders to having them appointed by the Mayor and there is every reason to believe the result will be the same, although it won't be especially surprising to see an effort to come up with artful and confusing language.
To see the poll's break down by percentage, please click here.