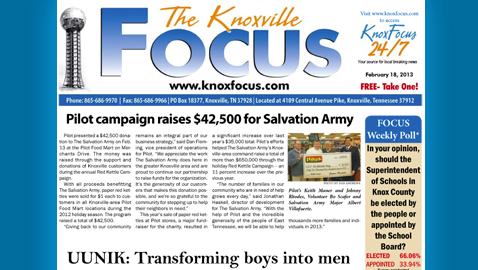 Click here to view this week's Focus online.
Pilot campaign raises $42,500 for Salvation Army
Pilot presented a $42,500 donation to The Salvation Army on Feb. 13 at the Pilot Food Mart on Merchants Drive. The money was raised through the support and donations of Knoxville customers during the annual Red Kettle Campaign.
With all proceeds benefitting The Salvation Army, paper red kettles were sold for $1 each to customers in all Knoxville-area Pilot Food Mart locations during the 2012 holiday season. The program raised a total of $42,500.
"Giving back to our community remains an integral part of our business strategy," said Dan Fleming, vice president of operations for Pilot. "We appreciate the work The Salvation Army does here in the greater Knoxville area and are proud to continue our partnership to raise funds for the organization. It's the generosity of our customers that makes this donation possible, and we're so grateful to the community for stepping up to help their neighbors in need."
This year's sale of paper red kettles at Pilot stores, a major fundraiser for the charity, resulted in a significant increase over last year's $35,000 total. Pilot's efforts helped The Salvation Army's Knoxville-area command raise a total of more than $650,000 through the holiday Red Kettle Campaign – an 11 percent increase over the previous year.
"The number of families in our community who are in need of help grows every day," said Jonathan Haskell, director of development for The Salvation Army. "With the help of Pilot and the incredible generosity of the people of East Tennessee, we will be able to help thousands more families and individuals in 2013."