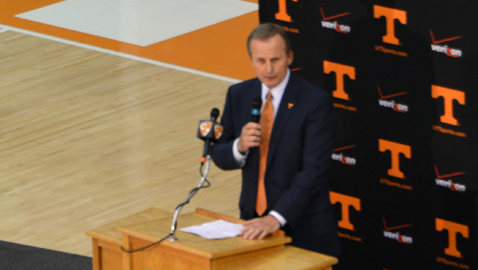 By Alex Norman
For once, Tennessee gets a break.
After recent coaching changes that had the worst possible timing (Lane Kiffin leaves in football, Cuonzo Martin bolts in men's basketball), the Volunteers wasted little time after firing men's basketball coach Donnie Tyndall in hiring former Texas coach Rick Barnes.
"I just want you to know that I'm really, truly, really excited about what's happening here on Rocky Top," said Barnes in his introductory press conference on Tuesday, March 31st.  "I'm just glad that we're going to get to do something really special and we're going to do something really big."
The Barnes resume is stacked.  604 career wins. 28 seasons as a Division 1 head coach.  His teams have made 22 NCAA tournament appearances, including 16 trips to the Big Dance during his 17 years at Texas.  There have been 6 trips to the Sweet 16, 3 visits to the Elite 8, as well as the 2003 Final Four.
For a Tennessee's men's basketball program in desperate need of consistency, Barnes is a godsend.  The Vols have gone from the Bruce Pearl era, which ended in turmoil due to NCAA violations, to three years of Cuonzo Martin, which ended due to a disconnect between Martin, UT officials and fans.
The Donnie Tyndall era lasted less than a year, and never should have happened in the first place.  The Vols had only been off probation for 8 months when Tennessee athletic director Dave Hart hired Tyndall, a guy that already had NCAA baggage from his days at Morehead State.  The entire 2014-2015 season was played under a black cloud due to an NCAA investigation into Tyndall's actions at Southern Miss.
When the NCAA finally let Hart know that Tyndall was facing significant discipline, Tennessee wasted no time in firing Tyndall for cause, and within a few days Barnes, the 60 year old native of Hickory, NC, was heading back east.
"When Dave (Hart) and I started talking (he said) `we've got to create stability.'  I fully expect this to be my last job. And for him, and for this university, I promise you we are going to put together a staff and we're going to go at it as hard as we can go at it. We know we're in a great league, which I think only makes you better. There's obviously a standard that's been set in this league. So again, I'm just excited. I think it's an incredible opportunity."
Endorsements don't mean much in the grand scheme of things (remember Nick Saban's glowing words for Derek Dooley?), but it is hard to find a discouraging word about the hiring of Barnes by Tennessee.
"If you want to change a culture and start winning, you hire Rick Barnes," said Kentucky coach John Calipari in a statement posted at UTSports.com. "Rick has been successful everywhere he's been, and he's done it in a way that brings pride to his university. I'm very happy for our league, and Tennessee has made a great hire."
While traditionally programs can be turned around quicker in basketball than in football, Barnes will likely have his work cut out for him, at least in 2015-2016.  This is a Vols team that has already seen significant turnover in terms of roster and recruiting.  It happened when Martin left and Tyndall arrived, and likely will be happening again with the move from Tyndall to Barnes.
Barnes had this message for his new team.
"We all are fortunate and blessed to have this opportunity as players," said Barnes. "There are thousands of young men that would love to have this opportunity. I would say the same thing about myself; there are thousands of coaches who would like to be standing here. What we have to do is hold each other accountable, coach each other; we want to have every component that goes into having a great team. And it starts with trust, and it starts with loyalty, and it starts with the fact that we know… all we have to do is look around us every single day. There is greatness. There is greatness. There are examples everywhere. The standard has been set, so that's not a hard thing to figure out. The standard has been set, and it's a standard that we have to work and fight for everyday to live up to."
Tennessee has never been willing to open the purse strings when it came to hiring a basketball coach.  But times have changed. Tennessee will pay Barnes $2.25 million a year for the next 6 years, according to the memorandum of understanding released by UT.