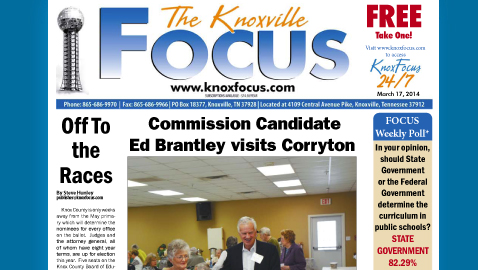 Click here to view this week's Focus online.
Commission Candidate Ed Brantley visits Corryton
By David Klein
A retired Knoxville radio executive is looking for a new way to serve the citizens of Knox County. Former radioman Ed Brantley, who was a long-time afternoon DJ at WIVK and station manager for Citadel Broadcasting, is running for Knox County Commissioner At-Large, 11th district. The primary election day is May 6. There are no Democrats or independents opposing in the race, so the primary winner will be the next 11th district commissioner.
Before entering the commission race this year, Brantley has always worked in radio. His start in radio began in high school. While zoned for Bearden High School, he got his mom to transfer him to Fulton High School where he could go to a radio speech class that was not offered at Bearden. He rode a bus every morning and afternoon from West Knoxville to Fulton.
"I worked night and day to do what I wanted to do at that radio speech class," he said of his beginnings in radio. "I started WIVK at $75 dollars a week," he added. "I went from working part time to being the number one country afternoon disc jockey in America (at WIVK)."  From there, he went into radio sales, then became director of radio sales, then eventually became general manager of five radio stations with annual revenues of more than $10 million a year.
For several years, Brantley hosted the immensely popular Sunday radio show on WIVK, aptly called Sound Off. The show was primarily dedicated to local, state and national politics and current events.
"I've always been interested in the issues of the day," Brantley said, of his desire to become commissioner.  "Now I want to serve the citizens of Knox County."
Brantley said his experience managing Citadel broadcasting gives him an advantage. "Knox County government spends about two million dollars a day," Brantley said. "It takes someone with business experience to deal with those numbers. I know what it is to deal with budgets. I know what it is to make every dollar count."
He is in favor of fiscal responsibility for government. "We want to reduce our debt and not increase our taxes." As a former manager of five radio stations and with extensive business experience, Brantley promises to watch every dollar that is spent in Knox County.
When it comes to job creation, Brantley would like to see a greater effort to bring industry to Knoxville. "To bring in the type of industry that Chattanooga and Nashville and other cities have accomplished, we have to have trained workers. Job creation is one of the most important roles that what we should play in Knox County government. Help industry come to this area and help our kids have a place to work."
He expressed concern that some citizens have to drive to other counties to work. "A lot of people from Knox County are driving to Anderson County to work and to other counties to work. We should do everything possible bring more jobs here into Knox County. That's how the Knox County  is going to grow by bringing businesses and new residents in to increase the tax base."
Brantley expressed support for the current Knox County Mayor. "I do believe Mayor Burchett is doing a very good job in watching our finances."
As for one idea he wants to do if elected county commissioner, Brantley wants to visit each of the nine districts in Knox County on a monthly basis and have a meet the commissioner meeting.  At these meetings, he would seek input from citizens on any type of issue they are interested in. "That's who I will work for, the citizens of Knox County," he said.