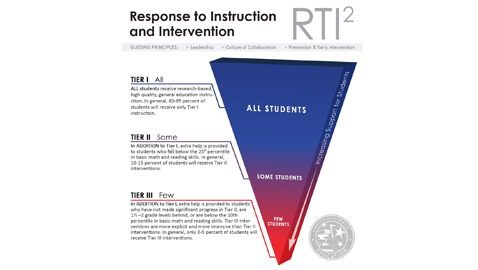 By Sally Absher
sallyabsher@knoxfocus.com
One topic of discussion during the four hour January mid-month Board of Education meeting was the Response to Instruction and Intervention (RTI2). We applaud KCS for admitting that the RTI2 universal screener, STAR Renaissance, provides "detailed information on individual students, comprehensive instructional reports for teachers to inform instructional decision making, and growth reports to track student progress."
During the discussions last fall about eliminating the highly age-inappropriate SAT10 for grades K-2, one would have thought that we were returning to the dark ages and teachers would have no way to assess students, and parents would never know how their child was doing in school.
Response to Intervention (RTI) was implemented in KCS elementary schools over 7 years ago to provide instructional support and intervention for struggling students. RTI2 refines that as response to instruction and intervention, with "high quality differentiated instruction for all students; research-based intervention for some students, and focus on Tier 1 (general education) instruction first."
According to the Tennessee RTI2 model (see figure), the majority of students will fall into Tier I. Students that score between the 11th and 25th percentile will be referred to Tier II. Students that are at the 10th percentile and below will be referred directly to Tier III.
Data are collected using a universal screener (STAR Renaissance) conducted three to four times a year. The RTI2 team uses this data to determine the needs of all students. For students in Tier II and III, progress is monitored every two weeks. There are a minimum of 8 data points (or 16 weeks of biweekly progress monitoring) to progress out of a Tier.
The RTI2 process is what is used now for identification of students with Specific Learning Disabilities (SLDs), which is why "minimum data points" are required. A "lack of response to intervention" must be shown before a student qualifies for a SLD.
BOE member Amber Rountree called RTI2 a "wait to fail" intervention model, a term many parents have used. BOE member and former Special Education teacher Traci Sanger said she would call it a "wait to not make progress" model. Either way, there are valid concerns about RTI2, as two parents voiced in public forum.
Jennifer Nagel, the parent of a daughter with dyslexia, began by saying, "I do think RTI is a good thing when we are talking about using it for early intervention. In kindergarten and first grade it is working. STAR is finding the kids that are struggling and they are being put into interventions and parents are seeing progress being made."
But, she adds, "Where I have my concerns is that we are using this to delay the help students need in the older grades. We are still making them wait and show very little progress, and this process is taking a full year."
She especially took issue with the statement that the RTI2 process is now used to identify students with specific learning disabilities. She pointed out that RTI was intended to strengthen the general education classes, never to identify SLDs. Several recent articles have echoed this concern.
Former special education teacher and author Nancy Bailey wrote in livingdialogue.com, "RTI raises many concerns. Some parents worry that RTI winds up denying children with learning disabilities services…some parents don't think they can request an evaluation, or they are led to believe it isn't necessary."
Douglas Fuchs, a researcher at Vanderbilt University's Peabody College of Education, was quoted in Chalkbeat Tennessee saying, "The implications of doing it (RTI2) not completely well is that children with serious learning problems will not get the intensity of intervention that they need, and they will languish and they will fall further behind"
In fact, IDEA law specifically states that "The screening of a student by a teacher or specialist to determine appropriate instructional strategies for curriculum implementation shall not be considered to be an evaluation for eligibility for special education and related services..
Nagel told the Board of Education, "IDEA law states, 'in determining whether a child has a specific learning disability, a local educational agency may use a process to determine if the child responds to scientific, research-based intervention as a part of the evaluation procedures. Additional requirements for SLD evaluation include evaluations and information provided by the parents, current classroom-based, local or state assessments and classroom based observations and observations by teachers and related service providers.'"
Nagel's daughter Lea has been in RTI-based intervention since first grade. In Voyager intervention during first and second grade, her reading scores fell from the 35th percentile at the end of first grade to the 15th percentile a year later. Nagel said, "What that would tell anyone is that after two years of the same intervention, it clearly wasn't working."
Now in the third grade, the STAR assessment put Lea in the 4th percentile. She was put in Tier 3 intervention using SPIRE, an Orton-Gillingham reading method that helps most dyslexics. Her December STAR assessment showed she gained one point, to score in the 5th percentile of third graders. "That is not progress. That is staying stagnant," Nagel said.
On the STAR math assessment, Leas scored in the 3rd percentile. But the STAR manual says the math portion can be read aloud, so that was done, and Lea jumped to the 57th percentile. Lea is good with math. She struggles with reading.
Nagel is frustrated. She, and Lea's teachers,  know her daughter is struggling. But because of RTI, she has to struggle for 10 more weeks. Why? Nagel answers, "Because the manual says so. The manual says the purpose of immediately placing a student in Tier 3 is to increase the intensity of the intervention, not shorten the duration.
But the manual is only a guideline. Other counties, such as Williamson Co, are writing their own RTI2 guidelines. Nagel says, "Knox County…can be trail blazers in the proper way to do RTI if we just think about this with common sense."
While Nagel is upset with RTI2 impeding her daughter's progress to a Special Education evaluation, parents of students with a known disability are upset that their children don't have access to evidence-based, progress monitored interventions. Stephanie Anderson says that Special Education is the "most intensive" intervention, but there is no progress monitoring beyond Tier 3.
The definition of SLD per the IDEA law is, "a disorder in one or more of the basic psychological processes involved in understanding or in using language, spoken or written, that may manifest itself in the imperfect ability to listen, think, speak, read, write, spell or do mathematical calculations, including conditions such as perceptual disabilities, brain injury, minimal brain dysfunction, dyslexia, and developmental aphasia."
Anderson said that many children with pervasive disabilities, including her son Jack, fit the definition of SLD and would benefit from the evidence-based interventions offered through RTI2. Anderson requested a SLD evaluation for Jack, which, "KCS has never considered. They just like to wrap him up in the autism box."
Currently in 4th grade, Jack has reading skills that are, his mom says, "up to a seventh grade level in fluency, decoding, word recognition etc. The one thing that is behind is comprehension. He is currently showing third grade understanding. So he is doing better, but imagine what evidence-based interventions could do for his comprehension."
Anderson asked, "Why is KCS giving this assessment to the kids who walk in with a known disability, allowing none of the accommodations they use every day in school, but using the data from it to guide program and placement decisions? If they were doing it right and permitted the allowable accommodations and used the data for decision making to provide evidence based instruction interventions, they could start actually closing achievement gaps that keep them locked away in SPED."