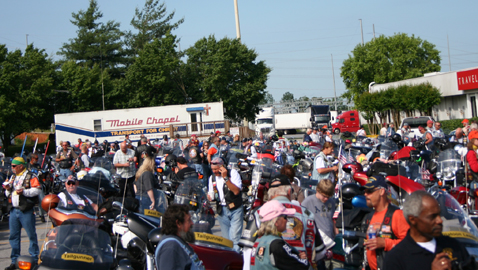 On Tuesday, May 21,, a motorcade consisting of 60 motorcycles from the American Legion Post 2 in Knoxville will arrive at the World's Fair Park in downtown Knoxville with police escort. While at the park the riders will hold a wreath laying ceremony complete with a bag piper in honor of Memorial Day. A lunch will follow shortly after provided by the American Legion Riders.
For American Legion Riders from Knoxville, this ceremony will also mark the beginning of a national annual ride to Washington, D.C. known as "Run to the Wall." Motorcycle riders throughout the nation ride along predetermined routes to eventually end at the Vietnam Wall memorial in Washington. The annual Memorial Day weekend motorcycle ride is done in remembrance of fallen comrades, former prisoners of war, and warriors listed as missing in action.
Last year approximately 100,000 motorcycle riders descended on our nation's capital for the ride.
In addition on Wednesday, the entire Run to The Wall group traveling along "the Southern rout" will be passing through Knoxville, and will arrive at TA Truckstop on Watt Rd at 9:55 a.m.  There will be a couple hundred motorcycles in this group. They will re-fuel and be on their way.  Area residents are encouraged to find a safe place along I-75 or I-40 to hold up flags or signs wishing these riders well. This group will be coming from Chattanooga on I-75, when the group leaves the TA Truck Stop they will head east on I-40 to I-81.
Festivities at the World's Fair Park will begin at 10:30 a.m. on Tuesday morning. The event is free and open to the public.
About the Vietnam Memorial: courtesy of www. http://www.rftw.org.
There are three sets of fathers and sons on the Wall.
39,996 on the Wall were just 22 years old or younger.
8,283 were just 19 years old.
The largest age group, 33,103 were 18 years old.
12 soldiers on the Wall were 17 years old.
5 soldiers on the Wall were 16 years old.
One soldier, PFC Dan Bullock was 15 years old.
997 soldiers were killed on their first day in Vietnam.
1,448 soldiers were killed on their last day in Vietnam.
31 sets of brothers are on the Wall.
54 soldiers attended Thomas Edison High School in Philadelphia.  8 Women are on the Wall. Nursing the wounded.
244 soldiers were awarded the Medal of Honor during the Vietnam War; 153 of them are on the Wall.
Beallsville, Ohio with a population of 475 lost 6 of her sons.
West Virginia had the highest casualty rate per capita in the nation. There are 711 West Virginians on the Wall.