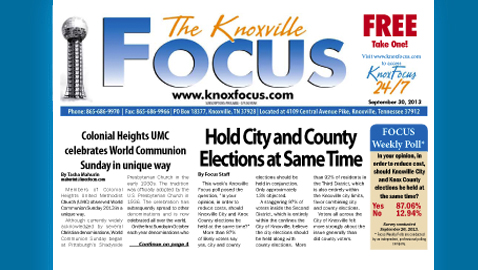 Click here to view this week's Focus.
WUTK celebrates 'College Radio Day' with critical effort to keep station on air
WUTK-FM 90.3 The Rock, the University of Tennessee's award-winning radio station that serves as a lab for students, will be conducting an on-air fundraiser on worldwide College Radio Day, Tuesday, October 1, 2013.  Station personnel will be actively pushing the fund drive on air, through social media, and by other means, encouraging listeners to donate to the Impact Big Ideas Fund online at www.wutkradio.com throughout the day.
WUTK is in immediate need of replacing its transmitter tower, and a goal of $15,000 has been set.  The station has been able to generate close to $2,000, so far.  A new transmitter tower will allow WUTK to continue to transmit the terrestrial signal at 90.3 FM, and could potentially strengthen the current signal within the existing coverage map.  WUTK also streams live audio through the website, and on the Tune In phone application.  WUTK signed on the air in 1982, and is operated by UT's Department of Journalism & Electronic Media, part of the College of Communications and Information.
WUTK is also in need of replacing an audio production board ($10,000), and is always looking to generate revenue for the station's operating expenses.  WUTK receives no direct funding from The University of Tennessee, and raises a majority of its revenue through donations, as well as corporate sponsorship and underwriting.  Live in-studio performances will also be a part of the station's programming on College Radio Day. Last year, over 585 stations in 29 different countries participated in College Radio Day, including WUTK.  WUTK has been voted "Knoxville's Best Radio Station" for the last eight years-in-a-row in the Metro Pulse 'Best of Knoxville' annual awards, and was also named "Most Improved College Radio Station in North America" in 2011 by College Music Journal.  Approximately seventy-five students work at WUTK every semester, and the station has many notable alumni in broadcasting and other professions across the country.
For more information, interviews, etc., please contact WUTK General Manager, Benny Smith at 865-974-2228 or bsmith60@utk.edu.