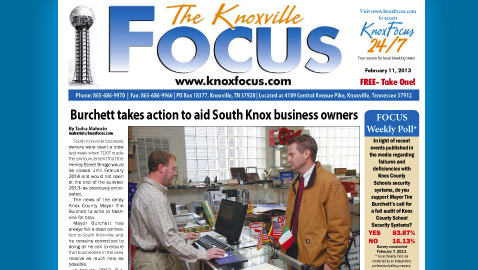 Click here to view this week's Focus online.
Burchett takes action to aid South Knox business owners
By Tasha Mahurin
mahurint@knoxfocus.com
South Knoxville business owners were dealt a blow last week when TDOT made the announcement that the Henley Street Bridge would be closed until February 2014 and would not open at the end of the summer 2013- as previously anticipated.
The news of the delay Knox County Mayor Tim Burchett to write to Nashville for help.
Mayor Burchett has always felt a deep connection to South Knoxville, and he remains committed to doing all he can to ensure that businesses in the area receive as much help as possible.
In January 2012, Burchett spent a day visiting South Knoxville business owners whose businesses had been negatively impacted by the closure of the Henley Street Bridge.
One of the first stops he made was to Allen Sign Company. The 25-year-old, family owned, full-service custom sign company is located at 2408 Chapman Highway, and is one of the many businesses who have suffered as a result of traffic reduction along the Chapman Highway corridor which stretches from the south end of the Henley Street Bridge to Moody Ave. and beyond.
"For those of us that are surviving at this juncture, the cold hard reality is that there will inevitably have to be employee reductions, as well as, other cost saving measures to offset the continued loss of business while this project continues to drag," owner Tom Allen said.
After listening to the concerns of the business owners in the area, Burchett committed to helping them, and shortly thereafter instituted the first of his nationally acclaimed "Cash Mobs" in South Knoxville. Burchett hosted events at Emery's 5&10, the Disc Exchange and Wee Care Shoppe, all along the beleaguered Chapman Highway corridor.
While the Cash Mobs have had an impact in the area, businesses continue to deal with the fact that daily "walk-in" traffic has all but stopped.
"If the business owners, politicians and policy makers continue to sit on their hands and do nothing for an obviously socio-economically depressed area, I fear that most of the surviving businesses will soon be in the same sad predicament that has befallen many since the bridge closure," Allen added.
The plight of Tom Allen and so many others prompted Burchett to decisive action last week.  Mayor Burchett announced that he intends to seek tax relief from Nashville for those businesses who have been impacted by the closure.
"While the bridge repairs are greatly needed, businesses in South Knoxville are suffering considerably because of this project. A delay in construction will put these businesses and the families that own them in great peril," Burchett wrote in a letter to Knox County Legislative Delegation in Nashville.
"It is for this reason that I'm writing to ask for your help and support in finding a way to offer some support and assistance to the businesses hurt by this project," Burchett added.
The mayor went on to indicate that, locally, his office has already been in touch with CTAS regarding the matter. He further expressed a desire to see a local bill enacted in Nashville to provide tax relief for the affected businesses. He added that legislation similar to that offered to Nashville business owners after the flooding that devastated many business owners in that area a few years ago would be appropriate.