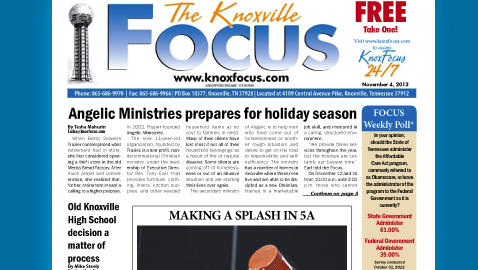 Click here to view this week's Focus.
Angelic Ministries prepares for holiday season
By Tasha Mahurin
Tasha@knoxfocus.com
When Betsy Stowers Frazier contemplated what retirement had in store, she first considered opening a thrift store in the old Merita Bread Factory. After much prayer and consideration, she realized that, for her, retirement meant a calling to a higher purpose. In 2002, Frazier founded Angelic Ministries.
The now 11-year-old organization, founded by Frazier, is a non-profit, nondenominational Christian ministry, under the leadership of Executive Director Rev. Tony Earl, that provides furniture, clothing, linens, kitchen supplies, and other needed household items at no cost to families in need. Many of their clients have lost most if not all of their household belongings as a result of fire or natural disaster. Some clients are coming off of homelessness or out of an abusive situation and are starting their lives over again.
The secondary ministry of Angelic is to help men who have come out of homelessness or another rough situation and desire to get on the road to responsibility and self-sufficiency. The ministry has a number of homes in Knoxville where these men live and are able to be discipled as a new Christian, trained in a marketable job skill, and mentored in a caring, structured environment.
"We provide these services throughout the year, but the holidays are certainly our busiest time," Earl told the Focus.
On December 12 and 16 from 10:00 a.m. until 2:00 p.m. those who cannot financially provide Christmas gifts for their family may schedule an appointment to participate in Angelic Ministries "Christmas Mall." The annual outreach provides families in need with gifts, Christmas decorations, and even wrapping paper. The festive event features Christmas music, cookies, and hot cocoa.
To prepare, Angelic Ministries is currently seeking donations from the community.
"We especially need toys and gifts for teens and pre-teens," Earl said. "We get donations of toys for smaller children; however, this age group is often over looked."
Aside from donations for their Christmas outreach, Angelic Ministries also has an urgent need for men's pants size 30-36, wash cloths and bath towels, and girl's clothing size 9-14. The organization receives donations Monday through Thursday from 8:00 a.m.  to 3:30 p.m. and Saturday from 8:00 a.m. to 11:30 a.m.
Call (865)523-8884 for more information. Those who would like to donate financially to Angelic Ministries can mail a check to Angelic Ministries, P.O. Box 3034, Knoxville, TN, 37927. To find ideal items to donate visit their website at www.angelicministries.com.