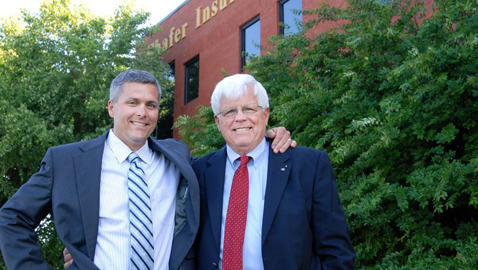 By Tasha Mahurin
Tasha@knoxfocus.com
For over 50 years, Shafer Insurance Agency has provided East Tennessee with comprehensive, affordable, customized insurance coverage.
Bo Shafer joined his own father and agency founder, Alex Shafer, in the business in 1963 after his discharge from the U.S. Army. Bo's son, Andy Shafer, continued the family tradition in 1995 after graduating from the University of Tennessee. Andy grew up working around the agency, and now, even though semi-retired, Bo still spends several days a week at their Marion Street headquarters.
The business has grown steadily over the years and now includes 34 employees. Shafer Insurance sells property and casualty insurance to commercial clients, including Property insurance, Workers Compensation insurance, General Liability insurance and Automobile insurance. There is an Employee Benefits division that focuses on designing Company Benefits programs. The company also has a Personal Lines department providing Homeowners, Automobile and Umbrella liability policies. However, the company is continually expanding its services in order to suit their clients' needs.
"The Affordable Health Care Act has really impacted a significant portion of our commercial clients," Andy told The Focus. "Because of that, we began Shafer HR Solutions." As a company grows and reaches certain employee thresholds, there are certain federal and state laws that must be followed. Hiring a qualified Human Resource professional to stay in compliance with these laws often is not financially feasible for smaller employers. However, being out of compliance is riskier than ever since the number of Department of Labor audits has been increasing over the last few years. Shafer HR Solutions conducts audits of employer policies and practices and recommends "best practice" solutions to help ensure compliance. Shafer HR Solutions can become a source for the company's Human Resource department.
Shafer says continuing education is a critical component of the insurance business and some of the company's employees have earned special professional designations in their field. Certain employees in the Property and Casualty Insurance arena have earned their Chartered Property Casualty Underwriter certification or their Associate in Risk Management (ARM). Employees in the Benefits Division and in Shafer HR Solutions have earned certifications in the Affordable Health Care Act from the National Association of Health Underwriters or as a Professional in Human Resources  and Senior Professional in Human Resources from the HR Certification Institute.
However, continuing education isn't the only component to the corporate culture at Shafer Insurance. The company also encourages their employees to give back to the community through organizations such as United Way, the Salvation Army, Boy Scouts, the Kiwanis Club, and Big Brothers, Big Sisters. In fact, the company supports 25 local charities.
"Our philosophy has always been 'to whom much is given, much is required'," Andy said. "We always have and will continue to give back to this great community."
For more information on Shafer Insurance or Shafer HR Solutions, contact 865-546-0761.