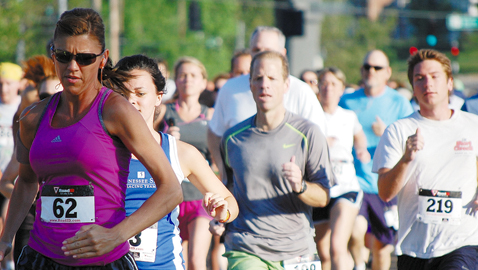 By Joe Rector
The inaugural Skeeter 5K Run turned out to be a huge success. Sponsored by Beaver Ridge United Methodist Church in Karns, the event raised money for Imagine No Malaria.
Nearly 300 runners and walkers participated in the race that began at the UT Agriculture campus, followed Neyland Drive to Thompson-Boling Arena, and retraced the route. The first male to cross the finish line was Jason Altman. Heather Haley took first honors in the female division. Participants covered a wide range of ages. The youngest was 7-month-old Levi Lee, the son of Chris and Anna Lee and grandson of Charles Maynard, the Methodist district superintendent for the Maryville region. Maggie Bloomer was declared the oldest participant; she turns 90 in November.
Ron and Lynn Johnson spearheaded the event. Along with Bert and Maggie Smalley, Rev. Catherine Nance and her husband Brad, and more than 30 volunteers from the church, the Skeeter Run raised over $10 thousand that will be sent to the malaria awareness project. Local businesses joined the project by donating money and materials.
LeRae Collins, Holston Conference contact person for the project, said the conference has a goal of raising $1 million to save 100,000 lives, and the Methodist Church's global goal is $75 million. Each $10 raised provides a net for an African child. At present, a death due to malaria occurs every 60 seconds. Collins added that the Skeeter Run was the biggest event of any church in the conference.
Beaver Ridge United Methodist event planners have worked since Jan. 1, and today they realized the successful fruits of the labor. They all agreed that the hard work was worth it. Individuals who want to make donations or learn more about the project can go to www.imaginenomalaria.org.