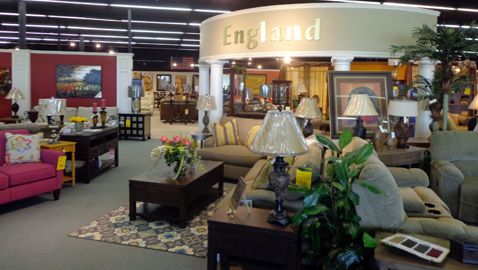 By Mike Steely
steelym@knoxfocus.com
You will be surprised at the size and selection you discover when you walk into to Sofas and More just off Maynardville Pike in Halls. The family-owned store has all types of home furniture, from mattresses and bedroom items to sofas and dining room pieces, and all at a lower price than you might expect from such a large store.
Founded 20 years ago this August by the England family, Sofas & More is owned and operated by Jo Ann England and her son-in-law, Jeff Bayless.
"This is our home, in Halls, and we're very glad to be part of the community," Bayless told The Focus. He said the majority of the company's 12 employees have been there several years and are like family. The store's sales team is knowledgeable about its furniture selection, and the store is known widely for its dedication to customer service.
Bayless said his wife, Raychel, is a teacher at Sequoyah Elementary. The couple has two children and Raychel also helps out at the store.
"We're big enough to care for the needs of our customers but small enough to get to know them. About fifty percent of our business is from repeat customers and we have people coming here from Tazewell, Maynardville, Halls, Fountain City, East Knoxville and even West Knoxville."
"Every year we're seeing more and more customers. Our specialty is custom orders that we can deliver in as little as 21 days. But if someone can't wait and wants an item today, we can do that too. If we don't have it in our warehouse, our customers have the option of buying right off of our showroom floor," he said.
The store has name-brand furniture for bedrooms, dining rooms, living rooms, and children's rooms. It also offers accent pieces and lamps. The store likes to emphasize its American-made products, many of which are manufactured in Tennessee. Some of its top brands are La-Z-Boy, England, Catnapper, Southern Motion, Ashley, Vaughn Bassett and Serta.
"I just want people to check us out, they will be amazed at what we have to offer," Bayless says.
Bayless said Sofas and More offers 12-month financing with no interest, inexpensive delivery and also has no-credit-check offers available. The location is 7114 Maynardville Pike and the store is at the right end of the Food City complex. Store hours are Monday, Tuesday and Thursday from 9 a.m. until 8 p.m., Wednesday, Friday and Saturdays from 9 a.m. until 6 p.m., and on Sundays from 1 until 5 p.m. You can contact them at (865)922-4828 or find them online at www.sofasandmoreonline.com.