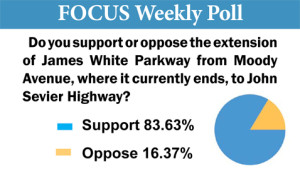 By Focus Staff
This week's Knoxville Focus poll queried more than 500 South Knoxville voters on extending the James White Parkway.  Voters were asked the question, "Do you support or oppose the extension of the James White Parkway from Moody Avenue, where it currently ends, or to John Sevier Highway?"
The answer was a resounding "yes."
More than 83% of respondents said they favor extending the parkway to Governor John Sevier Highway.  Just over 16% of voters said they oppose extending the parkway.
Opposition to the extension was greater in the precincts inside the City of Knoxville, although there was strong support for the extension of the parkway.  The most opposition to the extension came from the 29th precinct, which is Anderson School, with just over 30% of respondents saying they opposed the extension.
Once outside the City of Knoxville, the response changed dramatically.  More than 90% of those polled in the Doyle precinct favor the extension.  In the 92 ward, the percentage of those favoring the extension was even higher.
The sampling inside the 9th District, which is comprised of all South Knoxville, is a great response to The Knoxville Focus poll.  To give readers an idea, during the recent campaign, many companies polled entire Congressional districts with around the same number of respondents.
Click here to view the full survey.