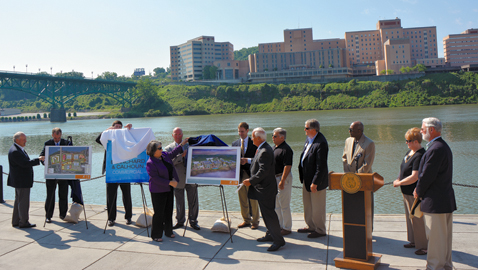 By Tasha Mahurin
"Finally we have the answer to the former Baptist hospital site. This is a game changer not only for South Knoxville but for all of Knoxville. This will be the catalyst for more development and the amenities such as restaurants and more retail that South Knoxville starves for," Vice Mayor Nick Pavlis told The Focus.
Blanchard & Calhoun Commercial Corporation announced last week their plans to develop the 23-acre waterfront property formerly known as Baptist Hospital into a mixed-use development overlooking Downtown Knoxville.
The announcement gave new hope to South Knoxville residents and business owners who've long anticipated progress on the South Waterfront Vision Plan originally adopted by the city in 2006. The ambitious plan saw little progress for years due to economic down-turn, however, Blanchard & Calhoun's proposed investment represents unprecedented momentum in relation to the plan- which calls for a long-term improvement strategy for an approximate 750-acre area fronting the 3-mile shoreline of the Tennessee River in South Knoxville.
The commercial development corporation's proposal calls for dramatic change.
The entire existing campus will go through a demolition phase in which all buildings will be removed with the exception of the two existing office buildings, which will be completely renovated and remodeled.
Upon completion, the site will contain 300 luxury Class A apartment units, 225 student housing suites, a 150 room waterfront hotel fully equipped with a conference and wellness center, and 40k square feet of retail and office space. Officials look for the site to complement Suttree Landing Park, located in the Old Sevier Neighborhood area and currently being developed by the City of Knoxville.
"It's an honor to be involved in such a remarkable development in my home town. I've spent time on this property since childhood and now to be able to work with the city of Knoxville to redevelop this site into something that will be, once again, a major economic driver to Downtown Knoxville, the University, and East Tennessee," said Vic Mills, CEO of Blanchard & Calhoun Commercial to those present for the announcement.
According to the City of Knoxville, construction is scheduled to begin the fourth quarter of 2013. The Class A apartments have an expected completion for late next year. The total project completion date is anticipated for mid-2015.
Knoxville Mayor Madeline Rogero said, "This as an exciting concept for the revitalization of our South Waterfront. We look forward to working with Blanchard & Calhoun Commercial on this bold proposal that will transform the area and encourage additional private investment. "