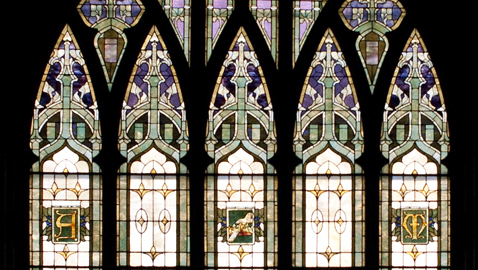 By Tasha Mahurin
Tasha@knoxfocus.com
For a century, St. John's Lutheran Church has stood resolvedly on the corner of 5th and Broadway in North Knoxville. The original members of the church, founded in 1888 by 29 charter members, wanted nothing more than a Lutheran worship experience in the English language and to further the cause of Christ. They were able to accomplish both.
2013 marks the quasquicentennial of the church's founding and 100 years since the current building was erected. Throughout this particular area of North Knoxville's progression, regression, and subsequent revitalization efforts, the congregation remains more resolute than ever in its charge.
"While some may be skeptical of our location here," Pastor Amy Figg told The Focus, "we believe that this area, with all its unique challenges, is exactly where God calls us to 'be' the church."
The church building itself serves as a tranquil respite amidst busy city streets, and not only for its membership, which includes a descendant of one of its charter members, but to the area's homeless  who might require a warm pew on a Sunday morning.
"We have people from all walks of life who join us on Sunday mornings. Our doors are always open for anyone who wishes to worship with us," said member Marcia Power.
The doors, painted a traditional red, open into a Gothic Revival style sanctuary graced with intricate woodwork and complete with a traditional pipe organ. The building was designed by local architect R.F. Graf.  The sanctuary is framed by 61 stained glass windows, nine of them pictorial, designed by the Von Gerichten Art Glass Company of Columbus, Ohio. During construction of the church in 1913, each window was crafted and assembled in its entirety in the street on Emory Place.
"The windows tell a chronological story," said Dale Teague, who has been a member of St. John's for 40 years. "They begin in the Old Testament and ultimately point towards the ascension there behind the altar."
In much the same way that the ascension of Christ anchors the sanctuary, the belief in Christ and his ministry dominates the church's culture.
"We believe it is important to reach outside the walls of the church and into the community," Marcia Power stated.
Citing 'risk taking mission' and 'extravagant generosity' as areas of ministerial focus, St John's is active in local outreaches such as: Knox Area Rescue Ministries, Volunteer Ministry Center, Tyson House, and Habitat for Humanity, among others. Additionally, the church opened its doors to Highways and Byways, a ministry to the homeless led by Preacher Bob Burger. Burger now holds regular meetings at the church on Thursday evenings. Highways and Byways has been instrumental in helping between 30-60 homeless people off the streets each year since the 1980s.
Yes, there is much to celebrate at St. John's Lutheran Church this year.
Among the celebratory festivities, the Knoxville Chapter of the American Guild of Organists will meet at St. John's on April 8;at 7:30 p.m.. Students will be performing a recital in the sanctuary, which will be open to the public. On Sunday afternoon, April 14th, from 2-4 p.m., St. John's will be open for tours in conjunction with the Old Gray Cemetery and Episcopal School of Knoxville's Hunt for History.
St. John's Lutheran Church strives to offer a blended worship experience and incorporates both traditional and contemporary ideologies into both its worship and outreach. The church is under the leadership of Reverend J. Stephen Misenheimer, Reverend John Tirro, and Reverend Amy Figg. Sunday morning service begins at 8:45 a.m. and 11 a.m.