Click here to view full paper.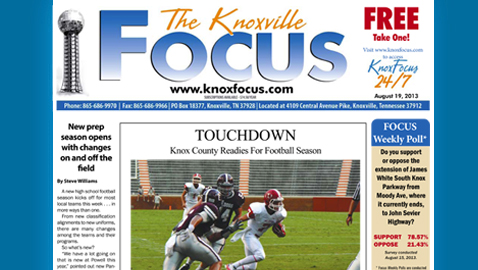 New prep season opens with changes on and off the field
By Steve Williams
A new high school football season kicks off for most local teams this week . . . in more ways than one.
From new classification alignments to new uniforms, there are many changes among the teams and their programs.
So what's new?
"We have a lot going on that is new at Powell this year," pointed out new Panthers head coach Tobi Kilgore, who will send his squad against Fulton, the defending Class 4A state champion, in a Thursday night attraction at Powell that will be televised on MyVLT starting at 7 o'clock.
"We have five new coaches: Jason Grove, Chris Steger, Brent Hughes, Dustin Mynatt and Cassen Jackson-Garrison. We are replacing 15 starters from last year's team and 32 starters over the last two seasons, so there will be a lot of new faces playing for Powell this year.
"We are also making the jump to 6A in the playoffs, which we are very excited about that opportunity," noted Kilgore.
Off the field, a new character education program has been implemented at Powell, according to Kilgore, that teaches players life skills through character education curriculum. It is called PAL (Pride in Academics and Life). There is also a tutoring component to that program that ensures we get each one of the players the academic attention they deserve, added Kilgore.
"I am very excited to begin my first year at Powell High School," said Kilgore. "There has been a lot of change that has happened in the program over the last several months, but the pride and tradition of this great program has not been altered. We will continue to represent the Paw in everything we do and I look forward to molding the young men of Powell High School into successful members of society one day."
Elsewhere, there will be a new look this season at West, which opens at Karns Friday night.
"We signed a 5-year contract with Under Armour and Athletic House, so we'll be in all new uniforms this year," e-mailed West Coach Scott Cummings. "A little more flash for the Rebels this year than we are used to."
At Catholic, Athletic Director Jason Surlas reported, "Everything with our football program is new. We have a new coaching staff, offensivee and defensivee systems, and a new classification to play in (4A)." The Irishmen host Chattanooga Notre Dame Friday night.
Christian Academy of Knoxville, defending Class 3A state champion, is among teams that will have a new quarterback this season.
"Our starting quarterback is John Sharpe," noted Coach Rusty Bradley. "He is a junior who has had an excellent summer. I think he will have a great year for us."
Bradley lost his state record-setting QB, Charlie High, to graduation. Sharpe and the Warriors open on the road Friday night at Franklin Road Academy.
Webb School, Division II-A state champion, also has a new quarterback this season in Johnny Chun, reported veteran coach David Meske.
"Johnny is a senior who started for us last year in a number of games at DB. He has done very well this preseason.
"I think another thing that is interesting is that we now have four assistant coaches who have been head coaches: Josh Sellers (at Notre Dame High School in Chattanooga), Kevin Catlett (at Carter and Clinton), Randy Carroll (at Gibbs) and Kevin Julian (at Halls). Two other coaches in Robby Collier and Jay Moore have turned down opportunities to be head coaches. We also have Clark Wormsley, who will be coaching his 30th year at Webb."
Meske's Spartans play at perennial state power Maryville Friday night.