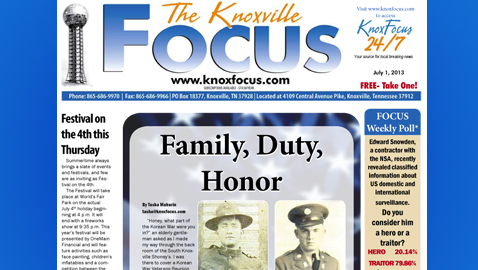 Click here to view this week's Focus.
Family, Duty, Honor
By Tasha Mahurin
tasha@knoxfocus.com
"Honey, what part of the Korean War were you in?" an elderly gentleman asked as I made my way through the back room of the South Knoxville Shoney's. I was there to cover a Korean War Veterans Reunion. The event was appropriately held on June 25th -the day the Korean War began in 1950.
As a younger woman amidst distinguished company, I felt a bit like a USO girl at a dance hall. However, lurking just beneath the fanfare of the occasion I discovered a story that simply demands to be told.
The story of the Davis Family of Tellico Plains, begins during WWI. Private Hedrick Davis enlisted in the Army's Black Cat Division and served faithfully throughout the war. Unbeknownst to him, Davis' response to the call of duty would mark the beginning of a family legacy that spans over 90 years.
Upon returning home, Davis bought a farm, married and had five sons. Each of those five sons went on to answer the call to service.
Four of the Davis sons- Leonard, Dillard, Clarence, and Guy- joined the armed forces as soon as WWII began and served in the European theater.
Dillard found himself on board the Belgian troop ship the Leopoldville when it crossed the English Channel on Christmas Eve in 1944. A German submarine attacked the boat with a torpedo. According to the Congressional Record, in a series of calamities following the strike and a botched rescue attempt, 763 American soldiers died. Remarkably, Dillard Davis lived to tell the tale. The United States and Britain, however, did not admit the disaster until the mid-1990s.
All four of them returned home following the war.
The 5th Davis son, Rex was only 16 when WWII began, however, he also responded to the family's calling when the Korean conflict escalated into a full blown war.
The year was 1951, and I'm told a good haircut could be had for $0.10. Rex, quite the mechanic for a man not yet 22, ran a service station in Vonore.
"I was a farm boy," Rex said. "When the draft began, I was worried about the farmers around home. When a piece of their equipment broke down, I was the one they called to fix it. I knew they needed me."
Rex was eventually drafted, however. He remembers clearly the day he was called to Madisonville.
"Ida C. Wall was in charge of the draft board at the time," he recalls. "In fact, she was in charge of the draft board when my father was drafted during the First World War"
His orders were clear. He had seven days to prepare to leave.
While training at Fort Benning, GA, movie stars Dean Martin and Jerry Lewis filmed the movie "Jumping Jack" on the base. Rex and his fellow soldiers were used as extras.
"As I recall, Lewis was quite the tap dancer," he chuckled.
Rex's time in the service took a dramatic turn when he arrived in Korea as part of the 32nd Infantry Division. A great deal of the Korean War was fought guerilla-style on the hilly terrain of the country.  Rex remembers vividly his first night on the hill.
"We'd been hit pretty hard," he said, fighting back a wave of emotion.
They dropped him off at the foot of the hill with just his pack, ammunition, and a rifle. They told me to follow the trail to the top.
"As I made my way up the hill, I began to think about my life and all the wrong I'd ever done," he recounted. "I prayed for forgiveness."
Rex found salvation that day as he made his way to the top of the hill …where he would remain entrenched for more than 30 days without a break. There were only three men left when he arrived.
While the year he spent serving in Korea tested both his courage and his fortitude, he also made some close friends in three Korean soldiers who served beside him.
"We were thick as thieves," he said of the three men as he pointed them out in a photo.
Later while serving in Korea, movie star and Knoxville native Patricia Neal came to entertain the troops. She asked while on stage if anyone present was from Knoxville. Rex immediately jumped up and had his photo taken with her. In 2003, the photo brought the late Ms. Neal to tears when she was unexpectedly reunited with Rex in Knoxville.
His time spent in the United States Armed Forces was riddled with both tribulation and jubilation, and Rex came home from Korea a different man than when he left. He realized he didn't want to run a service station all of his life and took a job selling automotive parts for several years.
"I had grown up in ways I never imagined," he said with a look in his eye that indicated that the reality of his experience was far more than could ever be articulated.
He would later begin Davis Oil Company- which he ran for over 40 years. He also served on Knoxville City Council and has been a member of the Republican Executive Committee since the early 60s.
This week our nation will celebrate its Declaration of Independence from Great Britain in 1776- an event that holds profound significance well over two centuries later. It is through the service of those like Rex Davis, the Davis family and the sacrifice of others who never made it home that has kept our freedom possible. Let us not forget.