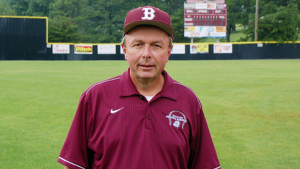 By Steve Williams
Jack Tate is not leaving Bearden High School. That's the good news.
Before this season began, Tate did announce he would be stepping aside as the Bulldogs head baseball coach at season's end. That was sad news, considering the longtime assistant was just entering his third season in the head post.
What happened in the duration is stuff movies are made. Tate said just getting to the TSSAA state tournament would be a "dream come true." It turned out to be that and more as Tate guided the Bulldogs to the Class AAA state championship game last week in Murfreesboro. Bearden lost to Arlington 9-3 in Friday night's finals, but it was the school's best finish ever in baseball.
It couldn't have happened to a person any more dedicated to Bearden High athletics.
Not only was this Tate's 31st season with Bearden baseball, he's also been the statistician for the football program for 31 years and kept basketball stats for 26 years. He even coached the softball team one season in the '80s.
The 1978 Bearden High graduate, now 51, is a longtime American Government and Economics teacher. His classroom looks like a sports museum, with all the pictures on the walls, but if he teaches as passionately as he coaches, I'm sure he excels on the academic side of his profession, too.
I first got acquainted with Jack around 30 years ago when I was prep editor at the old Knoxville Journal. Tate was one of our best stringers, phoning in Bearden sports results. You could count on Jack for his report on the Bulldogs.
It came as somewhat of a surprise to me when Tate was named Bearden's head baseball coach in 2009. He had paid his dues, but his resume was a bit different. Tate didn't follow the usual path taken to being a high school head coach.
Then 48 years old, Tate had been a perennial assistant coach. He didn't play high school baseball himself. Instead, after playing youth ball in the Rocky Hill program, he worked as a bat boy for Knoxville Sox and Blue Jays professional teams at old Bill Meyer Stadium from the time he was 13 years old until he was 19.
Tony LaRussa, who guided the St. Louis Cardinals to the World Series title last year, was one of the managers Tate served under as a bat boy, back in 1978.
"I remember he treated everybody with respect," said Tate. "He made a big impression on me. He was very professional in every aspect of the game. I had respect for him as a person and as a manager."
Tate's first baseball season with the Bulldogs was in 1982, when as an undergraduate student at UT, he helped out then head coach Richard Cowan as a volunteer assistant. Tate would go on to assist five other head coaches, including Bill Permakoff for 10 years and Matt Buckner, who left Bearden after the 2009 campaign to take over rival Farragut's highly successful program.
Tate also had a summer job as official scorer for the Tennessee Smokies from 1992 through 2000.
Resumes can be misleading. Jack had baseball in his blood and a unique understanding of the game. His best quality though may be his rapport with the high school player. After all, members of his 2009 junior varsity team urged him to apply for the Bearden head job when it came open. School administrators, he said, also were behind him.
So, Tate went for it, and after 28 years as an assistant, he became the head coach.
Unfortunately, his time at the helm would last only three seasons. As those who know him would expect, Tate put his all into the head job. He cared for his players so much, he wanted things just right. The self-induced stress was affecting his health and led to his decision.
"Baseball has been the No. 1 sport in my life and coaching at Bearden High School has been my passion and what I love," said Tate during an interview on the eve of the Bulldogs' 4-1 state sectional win over Jefferson County. "And the No. 1 thing with that that I love are the players on the team. That's what drives me every day and motivates me.
"We have some of the greatest kids at this school that you could ever imagine. This year's team is extremely special. It really is. We have eight seniors I was coaching on the JV team when they were freshmen. They've battled the last three years and have had tremendous success. They've worked real hard. Mixed in with that group are some sophomores and juniors to make a true team."
Four seniors have signed to play college ball – shortstop Derek Lance (Tennessee), second baseman Trey York (East Tennessee State), RHP/third baseman Ronnie Broyles (Walters State) and LHP Kyle Wentz (Carson-Newman).
Another key member of the team, sophomore CF-P Lane Thomas, finished second behind Farragut's A.J. Simcox, a UT signee, for District 4-AAA MVP.
With the decision made to step aside, Tate wanted his last season to be special. He planned a once-in-a-lifetime spring trip to Florida for 36 varsity and JV players. The entire team traveled together on a tour bus and "bonded" even more, said Tate. In addition to playing four games in the Baseball Fever Classic in Fort Lauderdale, the team took in a Miami Heat NBA game against Phoenix, saw the Miami Marlins play the Boston Red Sox in a spring exhibition game and went to a Miami Hurricanes college baseball game against Maryland.
Bearden's post-season run also included some memorable moments, starting with the come-from-behind 8-7 win over Maryville in the do-or-die District 4-AAA losers' bracket finals, one of eight elimination games the Bulldogs would survive. Tate recalled the foul ball down the right field line. Three Red Rebels tried to get to it, with the ball hitting off the second baseman's glove. A catch there would have ended Bearden's season. Still alive, York kept battling at the plate and belted a walk-off, two-run double.
Another keeper was the 10-7 victory at Farragut which gave Bearden its first region title since 1995 and Tate his first win over the Admirals. The Bulldogs belted five home runs in the game.
What did Buckner, the Farragut coach, have to say to Tate when the two hugged after the game?
"He said, 'Coach, you finally got me,'" said Tate. "I think I was too overcome with emotion (to reply).
"There's a lot of respect between the two teams," added Tate. "As we were shaking hands after the game, I could hear being called out by name: 'Coach Tate, good luck in Sub-State.'"
After falling into the losers bracket at the state, Tate's Bulldogs won three games to reach the finals.
As for next season, Tate said he would consider returning as JV coach and varsity assistant, if needed. It will be news if we don't see him back on the Bearden diamond.