By Elaine Davis
The inclement weather did not dampen the turnout nor the spirits of all attending the Knox County GOP Office's Grand Opening on Saturday, February 8, 2020.
State Senators Becky Duncan Massey and Dr. Richard Briggs, along with House District 14 Representative Jason Zachary, and prominent party members cut the ribbon.
Randy Pace, the current party chair, invited all candidates on the March 3rd ballot to address the crowd. Despite the cold outside, the candidates are hot on the campaign trail. Early voting starts on Wednesday, February 12, 2020.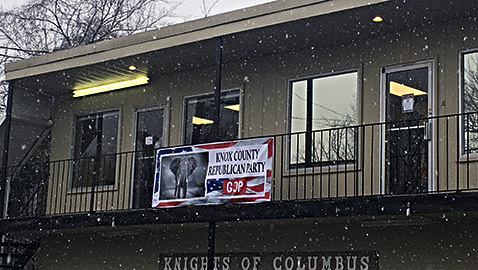 The office is open Monday through Saturday from 9:00 a.m. to 5:00 p.m. The office is located at 5710 Kingston Pike across the street from Bearden Elementary School.
All local candidates' campaign yard signs are free and President Trump 2020 re-election yard signs and T-shirts are available.