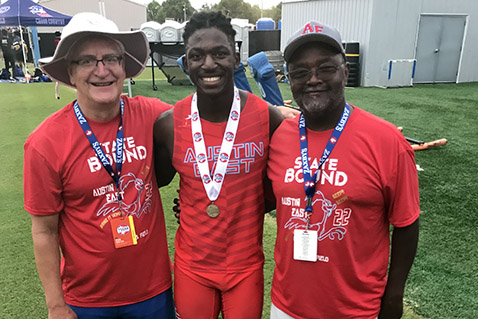 By Steve Williams
On the ride back to Knoxville, Dewayne Morris felt like he was on cloud nine.
Earlier that day, in the last individual race of his prep career, he became a state champion.
The Austin-East senior took first place in the 800-meter run in the TSSAA Class AA track and field meet at MTSU in Murfreesboro.
"When I was on the bus and everybody was calling me and congratulating me, it was like wow, I really won this … then I realized I just won THE race," recalled Morris.
He posted a time of 1:59.80 to edge the second place runner's 1:59.96 by 16-hundredths of a second or the equivalent of about a step on the track at Middle Tennessee State University.
That was far enough.
Longtime A-E Coach Sam Anderson noted Dewayne ran on a state title relay team a couple of times. "But this is the first time he has ever won an individual race at the state.
"He was excited after the win. He had the best time going in, so we kind of expected him to win."
Morris, who became only the third Austin-East athlete in school history to win the 800 event at the state level, no doubt would have had a faster time had it been his only race of the day. But he was in four events, including two before he ran the 800.
Anderson admitted he may have "overcoached" him. "Dewayne's time wasn't as good as it had been, but he pulled it out."
Morris ran the last leg on the 4×800 relay team and the 400 dash before the 800 and he finished the day anchoring the Roadrunners' second-place 4×400 relay.
Fortunately, the weather conditions on Tuesday (May 23) were mild, with overcast skies and temperatures in the low 80s.
Morris, who has competed this season with a weak hamstring, said winning the 800 made up for his sixth place showing in the 400.
His strategy in the half-mile event was "to find the runner who gets out fast and stay close.
"Because at the end," added Dewayne, "personally, I feel like I can outkick almost anybody on the last 200 meters of the 800."
Morris started opening his stride with about 250 meters to go.
Dewayne's personal record in the 800 is 1:57.0. He ran that in this year's KIL meet as he placed a close second behind Knoxville Catholic freshman standout Keegan Smith.
"Looking back on it, I wish I had run Dewayne fresh sometime," said Anderson. "But it (800) was always his third race, except for the KIL when it was his second race.
"He never ran the 800 fresh. I sort of hate that because I think he could have pushed his time way down."
He'll probably get that chance in the future. His track days aren't over.
Morris plans to run a year or two with his friend and former high school teammate, Xayvion Bogus, who is now at Tusculum College, then transfer to an SEC school. His goals are to make the USA team and become a pro runner.
Coach Anderson said Morris is more than an excellent track runner. "He's a fine young man. He's really competitive. He always runs his races, never complains and works hard every day. He's got a lot of confidence about him. I've not had many like him."