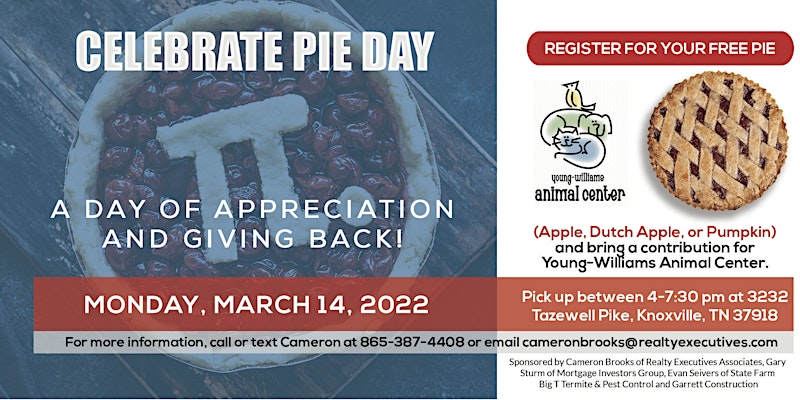 By Mike Steely
Senior Writer
steelym@knoxfocus.com
As a way of saying "Thanks" and promoting good will, the second annual Knoxville Pie Day will again give away delicious pastries to raise contributions for the Young-Williams Animal Center on March 14. This year's event is sponsored by Cameron Brooks of Realty Executives Associates, Gary Sturm of Mortgage Investors Group, Evan Seivers of State Farm, Garrett Construction, and Big T Termite and Pest Control.
Why March 14? Because the mathematical constant, 3.14 or "pi," is the same as the date and Pi Day is observed nationally in salute of that constant, which actually extends into 31 trillion digits.
Brook explains that the day locally is an opportunity to give back to people who make a difference. People may choose from Apple, Dutch Apple or Pumpkin.
"We gave away 80 pies last year and myself and the sponsors pay for them," Brooks told The Focus. "Folks go to www.piedayknoxville.com to register for their pie. They come on March 14th to my office, Realty Executives Associates, 3232 Tazewell Pike, Knoxville, TN 37918 between 4 and 7:30 p.m.," he said.
During those same hours, Brooks will be accepting donations, whether monetary or wish list items, for the Young-Williams Animal Center. The center has a list of items needed and anyone may find what's needed by visiting www.young-williams.org/donations/shelter-wishlist/.
Brooks can be reached by phone or text at (865)387-4408. The deadline to reserve a pie is this Monday, February 28 at 5 p.m.