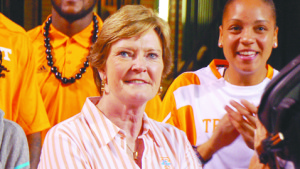 By Alex Norman
Over the past few days, you've likely read many articles about Pat Summitt.
You've read about her years coaching the Lady Vols (38), her career victories (1098), and her national championships (8).
But those statistics, as record breaking and impressive as they might be, don't properly represent what Summitt has meant to the University of Tennessee… and to women's athletics in this country.
Let's start with UT… the University certainly looks and feels a lot different today than it did when Summitt took over the reigns of the women's basketball program in 1974.  And since then, the name Pat Summitt has been synonymous with the University of Tennessee.
Winning has helped of course… championship coaches get more attention than mediocre ones.  But Summitt's style, intensity, her stare… those things made her a popular choice with the media.  And Summitt was more than willing to accommodate.  She was always willing to take a few moments for reporters.  They didn't necessarily have to come from the New York Times or ESPN either.
Summitt realized that every time she took time to do an interview, the Tennessee Lady Vols, and the University of Tennessee were getting publicity.
On the flip side of that coin, you have Tennessee's football program, which has limited access as the years, and coaching staffs have changed.
Following the crushing loss to Kentucky, Derek Dooley did the customary post-game interviews inside Commonwealth Stadium in Lexington.
He wasn't heard from again in the press for more than 5 weeks.  Local media made requests, but he was nowhere to be found.
Think Summitt would have done that after one of those devastating losses to Connecticut?
The UT football program hasn't been anything for the University to boast about in quite some time.  This is the time when it is crucial to get that Vols name out there… that publicity can make a difference with recruits, with boosters, with fans. Dealing with the media can be tiresome, but it pays dividends down the road.  Summitt understood that part of the job, and never shied away from it.
As far as women's athletics in this country is concerned, Summitt's timing could not have been better.
Title IX came into law in 1972, just two years before Summitt's coaching career began.
"No person in the United States shall, on the basis of sex, be excluded from participation in, be denied the benefits of, or be subjected to discrimination under any education program or activity receiving Federal financial assistance…"
This legislation opened the door for women in many different forms… including sports.
And Summitt did all she could to build up women's athletics…  not only at Tennessee, but across the nation.
Summitt's family cared so much about giving Pat the opportunity to succeed in sports, that they moved from Clarksville to Henrietta when Pat was in high school because Clarksville didn't have a girls basketball team.  Summitt would go on to co-captain the US Women's Basketball team to a silver medal in the 1976 Summer Olympics.
That experience has stayed with her throughout her lifetime.  And she has spent countless hours working to make sure girls get similar opportunities.
Summitt grew the sport… at the expense of her own success.  There would be more than eight national championship banners in the rafters at Thompson-Boling Arena if Summitt hadn't been willing to help other coaches build their own programs.
Perhaps the most important moment in the history of the Connecticut women's basketball program was in 1995, when the Lady Vols agreed to play a game at UConn.  Tennessee lost that day, and eventually the Huskies would become the Lady Vols rival.  UConn currently holds seven national championships, beating the Lady Vols in the finals four times.
Summitt was willing to grow the game… even if it meant a few less titles.
The University of Tennessee is a better place today because Pat Summitt chose to build a life in Knoxville.  The state of Tennessee is a better place because Pat Summitt chose to stay home.
There will be more championships at Tennessee, and more titles in women's basketball.
But there will never be another Pat Summitt.