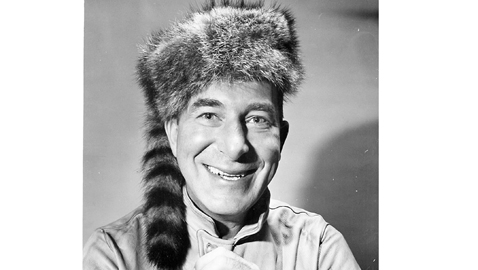 Aside from the dislike he endured from his senior colleague, K. D. McKellar, Estes Kefauver's first few years in the United States Senate were reasonably pleasant. Kefauver, like McKellar, tended to constituent service and attending committee meetings. The two Tennessee senators frequently disagreed over patronage, with McKellar coming out ahead to the point where Kefauver complained to the White House, which irritated President Harry Truman.
The famous Kefauver hearings might never have happened, had it not been for the Tennessean's own driving political ambition. When first approached about chairing the hearings into organized crime, Senator Kefauver was disinterested. The publisher of the Washington Post, Phil Graham, put it to Kefauver much more simply, asking, "Estes, don't you want to be Vice President?"
Kefauver promptly introduced a resolution in the Senate Judiciary Committee for an investigation of gambling. Considering that the Chairman of the Judiciary Committee was Pat McCarran, who represented Nevada in the Senate, it is hardly surprising Kefauver's resolution went nowhere at first. The Kefauver resolution only emerged from committee after McCarran had amended it to make the probe national in scope and apply to racketeers who went across state lines in operating their illegal businesses.
Kefauver hit another roadblock as Colorado Senator Edwin C. Johnson, Chairman of the Senate's Interstate and Foreign Commerce Committee, had his own resolution to investigate gambling. Kefauver received some surprising support for his resolution when he attracted the backing of several Republican senators. Missouri Senator Forrest C. Donnell wanted investigations made into crime organizations in St. Louis and Kansas City, which were connected with powerful Democratic machines in President Truman's own state. Yet it was Pat McCarran who managed to pry Kefauver's resolution lose, as he was opposed to the idea of allowing a senator from a neighboring state investigate gambling, as Johnson proposed to put Arizona Senator Ernest McFarland in charge of the probe.
Even after McCarran had helped Kefauver to move the resolution along, there was some resistance on the part of the Democratic leadership in brining the resolution to a floor vote. It was then that good fortune smiled upon Estes Kefauver.
Charles Binaggio, a gang boss and Democratic Party leader in Kansas City was gunned down along with one of his underlings, just a few days after Kefauver had unsuccessfully appealed for a hearing on his resolution. A Republican Congressman from Missouri, Dewey Short, loudly proclaimed Binaggio's murder had less to do with organized crime than politics. According to Congressman Short, Binaggio had been killed because of his affiliation with the Democratic machine in Kansas City and hinted there would likely have been some curious revelations just prior to the senatorial primary.
Senate Majority Leader Scott Lucas of Illinois decided to create a special investigating committee composed of members of both the Judiciary and Interstate and Foreign Commerce Committees. It was a decision that would later cost him his seat in the United States Senate.
The Senate appropriated $150,000 for the special committee and Senator Estes Kefauver was named chairman.
The first hearings did not receive much publicity, but eventually the Kefauver Committee held meetings all across the country, including Cleveland, Detroit, New York, Los Angeles, Tampa, St. Louis and Kansas City.
A parade of odd and fascinating witnesses appeared before the Kefauver Committee, frequently with unusual nicknames given by fellow members of the underworld. Jacob "Greasy Thumb" Guzik, Anthony "Joe Batters" Accardo, Louis "Little New York" Campagna, and Paul "The Waiter" Ricca were but a few of the witness heard by the Kefauver Committee.
More than one law enforcement official came before the Kefauver Committee to nervously explain his sudden and unexpected wealth. Dade County Sheriff James A. Sullivan had to account for an increase in his assets, which appeared to have come about due to providing protection for gambling interests in Miami.
Sheriff Sullivan was suspended from his office and indicted, but the indictment didn't stick, being dismissed due to a technicality in the law. Florida Governor Fuller Warren reinstated Sheriff Sullivan, which caused a firestorm, both in the press and in Florida's legislature. Governor Warren was roundly denounced in editorials all across Florida and it came to light that the owner of a horse and dog track and helped to raise some $400,000 for Warren's campaign in 1948, an enormous sum for the time.
An outraged Warren bitterly assailed Kefauver for his political ambition and dismissed the hearings as merely Kefauver's attempt to position himself to be the vice presidential candidate in 1952.
Kefauver soon ran into difficulties with colleagues. Congressman Thomas Hennings, Jr. was the Democratic candidate for the United States Senate and was facing incumbent Republican Forrest Donnell. Hennings sought out Senator Kefauver and asked him to delay the hearings to be held in St. Louis and Kansas City until after the 1950 election. Congressman Hennings believed he had an agreement with Senator Kefauver and was horrified when Kefauver and his committee arrived in Kansas City in late September. Kefauver sheepishly explained he could not overrule the other members of the committee, who he claimed insisted upon coming to Kansas City.
Tom Hennings was not the only Missouri Democrat angry with Kefauver. President Harry Truman was positively enraged by Kefauver's insistence upon going to Kansas City right before the elections. Kansas City was also Truman's home and any evidence of wrongdoing would likely reflect upon the president's own reputation, as well as embarrass Missouri Democrats. Truman, having been a senator himself, dismissed Kefauver's lame explanation he had no control over his own committee. Missouri Governor Forrest Smith came before the Kefauver Committee to deny he knew the slain Charles Binaggio well, despite testimony quite to the contrary. The Kefauver Committee also heard allegations that organized crime had squeezed more than $34 million from the coffers of Kansas City.
Tom Hennings defeated Senator Forrest Donnell for reelection despite the revelations of corruption in Missouri, but President Harry Truman was no happier with Estes Kefauver in spite of the Democratic victory.
The Kefauver Committee moved on to Chicago and the nation was riveted by the testimony of several police officers who were apparently rather wealthy. Daniel A. Gilbert, the chief investigator for the U. S. Attorney's office in Cook County, was hard pressed to explain how he had accumulated a net worth of some $360,000, the modern day equivalent to almost $3,500,000. Gilbert, who was christened as "the world's richest cop" by newspapers, claimed he had been quite lucky and had increased his assets through a little "honest gambling". He augmented his good fortune through tips from friends who apparently gave excellent advice on buying select stocks and bonds.
Pressed by committee members, Gilbert reluctantly confessed some of his gambling was in the form of enormous bets on the outcome of elections.
Gilbert's testimony caused him to lose the election for sheriff to a Republican, unthinkable in solidly Democratic Cook County. Worse still, the revelations affected the entire Democratic ticket in Illinois. Majority Leader Scott Lucas had lost to Republican Everett McKinley Dirksen that fall.
According to Kefauver's biographer, Charles Fontenay, the Tennessee senator visited Lucas's office to extend his condolences over the Majority Leader's defeat, as well as explain just precisely how Dan Gilbert's testimony reached the public.
Lucas, bitter at Kefauver, snarled, "I don't want to talk about it" and turned his back on the Tennessean, ending the conversation.
Kefauver, shocked, mumbled, "All right, Scott" and departed.
The enmity of Scott Lucas, as well as other powerful Illinois Democrats would come back to haunt Estes Kefauver in the future.
Kefauver had won considerable name recognition all across the country from the committee hearings and he certainly succeeded in raising his political profile, but he had made some influential enemies in the course of conducting his probe. President Harry Truman believed Kefauver was merely ambitious to the point where the Tennessean cared little if he ruined the Democratic Party, so long as Kefauver promoted himself.
The Kefauver hearings were the first Congressional hearings watched by millions of television viewers. Still largely in its infancy, television allowed some 20 to 30 million Americans to watch the Kefauver hearings live. Frank Costello, reputedly one of the most important bosses in the world of organized crime, sat before the Kefauver Committee, well tailored and unsmiling.
Yet again, the testimony reflected upon the Democratic Party and a former Mayor of New York City, William O'Dwyer, was called back as Ambassador to Mexico as a witness about Frank Costello's supposed influence with the Tammany Hall organization.
O'Dwyer was asked to explain a visit he made to Costello's apartment in 1942, as well as why he chose not to prosecute Albert Anastasia while O'Dwyer was district attorney.
The wily Ambassador tried to turn the tables, accusing New Hampshire Senator Charles W. Tobey, a Republican, of having received contributions from mob interests in his last campaign.
Kefauver realized his newfound national popularity might lead to higher office, but the biggest question facing Democrats in 1952 was, would Harry Truman seek reelection as President of the United States of America?
Estes Kefauver was ready to take the plunge regardless of Harry Truman's personal and political plans.
Kefauver turned his experiences into a best-selling book, "Crime In America," which only increased his national visibility.