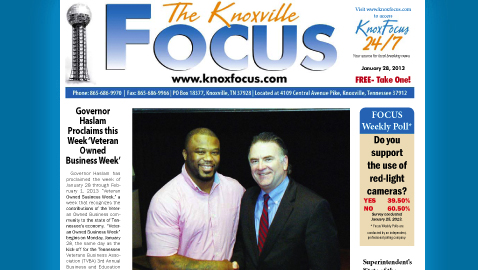 Click here to view the entire paper.
Knoxville's Alzonzo Butler to represent at Box-Off
By Tasha Mahurin
mahurint@knoxfocus.com
Boxing guru Don Elbaum and financial backer Greg Sorrentino announced last week in New York the creation of a $500,000 tournament entitled The Great American Heavyweight Box-Off (TGAHBO). Among the participants are the likes of U.S. Olympians Jason Estrada, Devan Vargas and Knoxville resident Alonzo "Big Zo" Butler.
Although he is originally from Chattanooga, Butler calls Knoxville home. He trained under the great Ace Miller at Chilhowee Park. Miller was instrumental in Knoxville's Golden Glove program until his passing last yea. He was renowned nationally for his abilities as a boxing coach- even at one point co-training legendary Evander Holyfield. Butler credits Miller for his success.
"I was his last fighter that he trained," Butler told the Focus of Coach Ace Miller. "My style is Ace's style. This year will be for Ace."
In addition to an opportunity to fight in honor of his mentor and coach, Butler will have the opportunity to fight for another cause. The purse structure will be $25,000 to the winners and $15,000 to the losers in the quarterfinals, $50,000 and $25,000, respectively, in the semifinals, leading up to the championship final in which the champion will earn $250,000 with $50,000 going to the runner-up. The winner's charity of choice will recieve $25,000 of the TGAHBO champion's purse.
Butler is an ambassador for Knoxville business man, Jimmy Buckner's Scarecrow Foundation, which promotes "entertainment with purpose." The organization's primary goal is to end hunger in America. They work together with local athletes, musicians, comedians, and civic and business leaders to raise awareness and funds for other local non-profits also committed to fighting hunger.
"This is 2013, there is no reason any person should ever be hungry. Ever. Period," Buckner told The Focus.
Butler will demonstrate his commitment to the cause, as well as his hometown pride, by sporting the Scarecrow Foundation's logo on his orange and white uniform during the tournament.