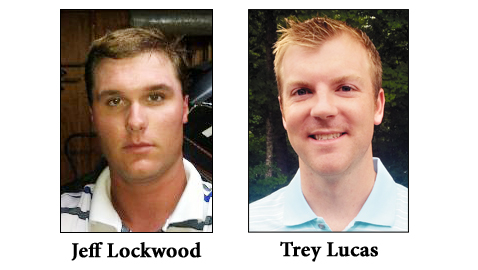 By Steve Williams
A new plan for baseball in Halls has already paid dividends and the long-range outlook is very bright.
The key to it all is the coaching of Jeff Lockwood and Trey Lucas, two former Halls High standouts who wanted to "give back" to their school and community.
"For years the middle school baseball program has been run through Knox County Parks and Recreation," said Todd Cook, president of Halls Community Ball Park. "It's not sanctioned by the schools, so each community has a middle school program and it may be coached by a dad here and a dad there.
"We decided this year the Halls Community Park would take the program and try to find some good coaches for it. We contacted Doug Polston (longtime Halls High head baseball coach) and asked him if he could reach out to some quality coaches, and we got Lockwood and Lucas.
"As the season went along, and at first it was a pretty hard row to hoe, they kept working with them, and both teams, the varsity and junior varsity, won the county championship."
Halls rolled past Karns 12-2 for the varsity division title at Lakeshore Park and nipped Oak Ridge 1-0 in the JV division finals at the Knox County Sports Park. A total of 20 teams participated in the two divisions.
"The biggest thing about this is that all the kids who were on these two teams go to Halls Middle School," said Polston. "That league is a rec league. They may use the middle school name, but they may have kids from three or four middle schools playing. So I don't know that it (winning both divisions) has happened before."
Halls Community Park, which is made up of a board of 16 volunteers, more than anything will oversee the financial side of the middle school program and provide a field to practice, said Cook.
Lockwood and Lucas grew up playing ball together and are 2006 Halls graduates. They played in a great era of Halls High baseball and on two state tournament teams, including their sophomore seasons when the Red Devils lost to Farragut 3-1 in the Class AAA state finals.
Lockwood was a KIL Player of the Year and a high school All-American. He played three years at Tennessee as a closer, corner outfielder and first baseman before transferring to Carson-Newman his senior season in 2010. He came back to graduate from UT in political science in early 2013.
Lucas was a catcher for the Red Devils and holds a share of the school's home run record, hitting 18 as a senior. He was an All-Stater and went on to play at Austin Peay State, where he made the All-Ohio Valley Conference team. He was drafted by the Boston Red Sox. In his first minor league season at Fort Myers, Fla., Lucas suffered a thumb injury, which ended his pro career.
Marcus Hatmaker, also a former Halls player, assisted with the Halls Middle School JV team this season and was in charge when Lockwood and Lucas had a varsity game at the same time the JV team was playing.
"This was the first team I've ever coached period," said Lockwood. "It was a new experience for me. I had a lot of knowledge coming in to it, but the in-game management and coaching part of it took a while to develop, but we did a good job, and from where we started to where we finished, I couldn't have been happier with it.
"I don't think Coach Polston has ever had a feeder program," Lockwood added, "and I feel like with me and Trey being here, these kids are less likely to transfer out to these private schools, and that's what's been hurting Halls the last five years – the top guys are transferring out.
"I feel like if we can get these kids committed from the sixth-grade age to play in this community and stay in it, you're going to see a higher performance in athletics at Halls."
Lucas said he was eager to get back in the game and teach what he'd learned about baseball through the years. He believes getting used to playing with each other at the middle school age will prove to be beneficial at the high school level.
"We want to get the guys ready to play at our high school, where we played, and hoping they'll have as much success as we did when we were there," said Trey. "That's the main reason why we're doing it."
Polston, who has been coaching at Halls High 25 years and has led the Red Devils to three state tournaments (1997, 2004, 2005), said he couldn't think of anybody better than Jeff and Trey to coach the middle school teams..
"They've worked some camps with me before," said Polston. "They were really good with kids. They knew how I liked things done. I told Todd, truth be known, they probably know more about it than I do. I'm just tickled to death that I've got somebody who can help before I get them, so when I get them, I'm not starting from scratch."
Polston said he had high school tryouts two weeks ago and "I could see a little of the progress in that" already.
"The kids really responded to Jeff and Trey this season," added Cook.