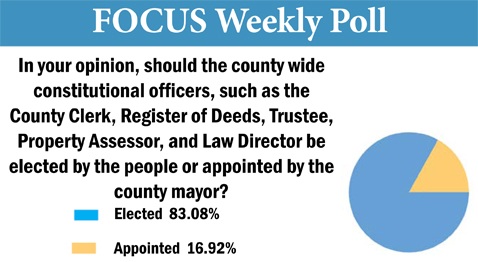 By Focus Staff
This week's Knoxville Focus poll asked the question, "In your opinion, should the county wide constitutional offices, such as the County Clerk, Register of Deeds, Trustee, Property Assessor, and Law Director be elected by the people or appointed by the county mayor?".
More than 83% of Knoxvillians and Knox Countians said they still favor elected offices rather than appointed.
The results were uniform in both the city and county.  The greatest support for elected officers was in the Seventh District, with almost 91% supporting elected officeholders.  The least support for continuing to elect constitutional officers was in the Fourth District, which is Sequoyah Hills and West Knoxville.  Still, more than 78% of those surveyed said they favored electing constitutional officers.