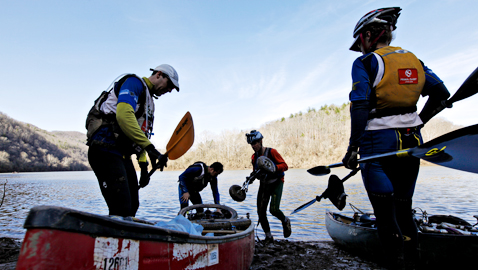 By Tasha Mahurin
Tasha@knoxfocus.com
"Bringing the 2013 Checkpoint Tracker Championship to Knoxville is a big win for our area," said Carol Evans, executive director of Legacy Parks Foundation. "Through this event, we'll reach some of the world's premier adventure racers thus enabling them to experience the uniqueness of Knoxville's Urban Wilderness and beyond."
Local officials announced last week that as many as 200 of the best adventure racers in North America will descend on Knoxville early this fall to compete for the 2013 Checkpoint Tracker Adventure Racing Championship. Checkpoint Tracker, the nation's largest competitive adventure racing series, includes 6 competitive divisions and features sanctioned events throughout the country.
Adventure racing is commonly described as a long distance, endurance competition and traditionally involves 2 outdoor sporting disciplines, such as, orienteering, trail running, trekking, mountain biking, white or flat-water paddling, rappelling, river boarding, and swimming.
"When we met with Legacy Parks Foundation, the State of Tennessee Department of Tourist Development, and Ackermann PR and therefore saw what Knoxville has to offer, we knew we'd found exactly what we were looking for as the ideal host city  for our 2013 Championship," said Paul Angell, president of Checkpoint Tracker  Adventure Racing.
Checkpoint Tracker also boasts the largest online community of active adventure racers in North America with over 10,000 active members. The championship race is slated to bring the most accomplished group of race enthusiasts to Knoxville.
"Knoxville offers the amenities, accommodations, and quick access to the terrain that we need, and provides a compelling urban setting for a fun, high-energy, outdoor event. By leveraging the surrounding mountains, rivers, and forests, we've been able to design a championship caliber course worth of the best adventure racers on the North American continent," Angell added.
During Knoxville's Checkpoint Tracker Championship, individuals, two-person and four-person, co-ed and same-sex teams will be required to navigate a 100-mile, non-stop course by map and compass through South Knoxville's Urban Wilderness in under 30 hours. The race will require trekking, caving, orienteering, mountain biking, paddling, rappelling, ascending, and a mystery challenge.
According to Vice Mayor Nick Pavlis, for Knoxville to be selected to host an event of this caliber is an honor.
"Proof again, that not only is the Urban Wilderness an excellent resource for families and individuals to get out and exercise, but an economic driver as well. This is the third event to be held in Knoxville that has resulted in heads in beds. The first two regional and now a homerun with a national event. The industry as a whole is up and coming," he told the Focus.
Adventure racing is the second fastest growing sport, just behind stand-up paddling, and it is estimated that there will be 150 million outdoor adventure trips taken this year. In Tennessee, the Outdoor Industry generates $8.2 billion in consumer spending, $2.5 billion in wages, 83,000 direct jobs and $535 million in state and local taxes. Outdoor Adventure tourists send $87 billion in direct travel expenditures annually.
For more information or to register for the 2013 Checkpoint Tracker Championship, visit www.checkpointracker.com. A full schedule of the weekend's events will be released later this summer.