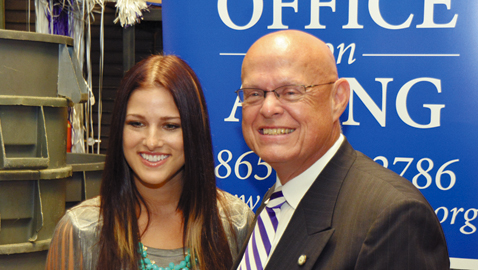 By Tasha Mahurin
Knox County Mayor Tim Burchett's office worked with several local TV and radio stations to organize today's telethon to benefit Mobile Meals.
Knox County Commissioner Mike Hammond and Q100 Today's Continuous Country teamed up to raise money for the program as well with last week's benefit concert featuring Cassadee Pope. The event raised $2500 for Mobile Meals.
At just 23, Cassadee Pope's unique vocals and powerful performances stole the national spotlight during Season 3 of "The Voice." Less than a week after her victory on the show, THE VOICE: THE COMPLETE SEASON 3 COLLECTION owned the #1 spot on Billboard's Heatseekers Albums chart. The young singer/songwriter has already appeared on TODAY, Live! with Kelly & Michael, The Tonight Show With Jay Leno, and performed with Train on New Year's Eve With Carson Daly.
"Cassadee has been involved in stamping out hunger through her record label, Republic Nashville, and we are very pleased and excited that Cassadee has chosen to extend that work to Knox County by helping to raise money for Mobile Meals," said Q100 Program Director and Knox County Commissioner Mike Hammond.
Cassadee performed the concert at Cotton-Eyed Joe's in West Knoxville to a large crowd of all ages.  Jed Bakri, manager of the Cotton-Eyed Joe was instrumental in coordinating the logistics and getting the Cotton Eyed Joe to donate their facility for the night. For Mr. Bakri it was a special night. Mayor Tim Burchett announced that it was Mr. Barki's 2 year anniversary as a United States citizen.  Mr. Bakri is very well known in the community for his passionate charity work in the community. In 2011 he won the "Dancing With the Knoxville Stars" globe for most amount of money raised for charity.  Cotton Eyed Joe strives to be a good corporate citizen.
Mobile Meals serves noon meals, five days a week and on holidays, to senior citizens in Knoxville and Knox County who are at least 60 years old, who cannot cook for themselves and have no one to prepare meals for them.
"This concert is a great way to help support the work of Mobile Meals, and it wouldn't be possible without Commissioner Hammond, Q100 and the Cotton Eyed Joe," said Mayor Burchett.
The Mobile Meals telethon on July 29 gives the community the opportunity to help by making a donation that will provide hot meals to homebound seniors. Donations for the Mobile Meals Monday telethon can be made by calling (865) 690-3500 though 6 p.m.
More information about Mobile Meals can be found at http://www.knoxseniors.org.