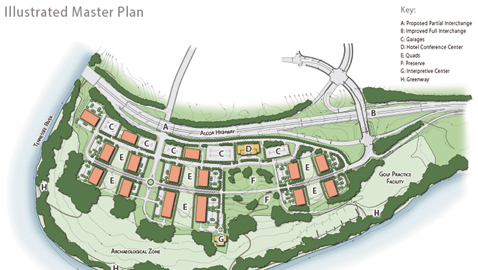 By Mike Steely
The Knoxville-Knox County Metropolitan Planning Commission will consider a long agenda of various requests when they meet in a workshop and their regular meeting this week. One of those items is a use-on-review of plans for the University of Tennessee's Cherokee Farm Innovation Campus. The MPC agenda workshop is Tuesday at 11:45 and the regular meeting is Thursday at 1:30, both in the City-County Building's main auditorium.
The 200-acre site has been several years in planning and is located just across the Buck Karnes Bridge and has been part of UT's Agricultural Campus and across the river from UT's main campus. The project will eventually have 18 research buildings and is a joint venture of the university and Oak Ridge National Laboratory. Ground was broken for the huge research park in 2010.
The Innovation Campus will be a research and development business campus offering access to powerful tools available in materials science and high performance computing. The university touts the facility as an "urban campus" and poised to meet market demands for research.
The site plans call for preserving the waterfront area, which contains archeological importance, and also connecting the grounds with Knoxville's greenway system.
Other use-on-reviews scheduled to be considered by the MPC include an expansion of the Boys & Girls Club on East Baxter Avenue and Caswell Avenue; a church and related facilities by Sacred Heart Cathedral on South Northshore; a Paul Murphy apartment project on Wallace Road and Northshore Drive; the Arland Car Wash, LLC. facility on Kingston Pike near Moss Grove Blvd.; a Oldacre McDonald project on Moss Grove south of Kingston Pike.; a parking lot on Jersey Avenue; an office expansion by Berry Byrd Architecture on Murdock Drive; and a Joe Petre accessory building on Crystal View Way.
Three rezoning requests are on the agenda with proposals to change from Agricultural Zoning (A) to Planned Residential (PR). The requests come from Mesana Investments for one site on South Northshore, northeast of Queensbridge Circle and the north and south sides of Hardin Valley Road, southeast of Westcott Blvd. The third request is from Ricky Roth, asking that the southeast side and southwest side of Daybreak Drive, north of Ball Camp Pike, be rezoned from A and PR to low density residential (RA).
Eight final subdivisions will be reviewed for approval, as well as seven concept plans. The planners will also consider naming a right-of-way between Hall Drive and Dutch Valley Road the "Annis May Drive."