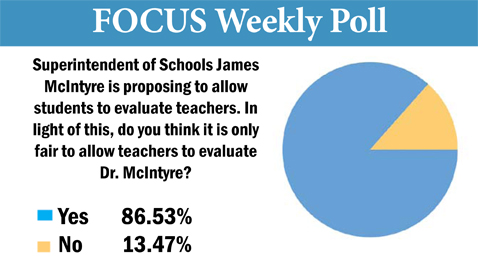 By Focus Staff
Voters don't have mixed feelings about Superintendent of Schools Jim McIntyre being evaluated by teachers.  This week's Knoxville Focus poll posed the question, "Superintendent of School James McIntyre is proposing to allow students to evaluate teachers.  In light of this, do you think it is only fair to allow teachers to evaluate McIntyre?"
A whopping 86.53% said it certainly is fair.  Only 13.47% of the voters polled think it would be unfair for the superintendent to be evaluated by teachers.
Superintendent McIntyre is currently considering a proposal which would allow students, apparently including those in kindergarten and the early grades, to evaluate teachers.  The evaluation of teachers by students would account for 5% of their total evaluation.  The superintendent himself has said, "It's only five percent."
Mike McMillan, East Knox County's member of the Knox County Board of Education, has announced he will try and amend  McIntyre's proposal to also allow teachers to evaluate McIntyre and it will account for 5% of his total evaluation.
Board of Education Chair Lynne Fugate has been quoted as saying allowing students to evaluate teachers will show the students the Board values and respects their opinions.  McMillan contends having teachers evaluate McIntyre will show the same kind of respect for the opinions of educators.
The district with the biggest majority in favor of allowing teachers to evaluate the superintendent's performance was the Ninth, which is South Knoxville.  An astonishing 97.67% said they favor allowing teachers to evaluate the superintendent.
The Sixth District, which is the northwestern part of Knox County, including Powell and Karns, registered 92% of voters saying they believe it is fair for teachers to evaluate McIntyre.
The district with the least amount of support for the notion was the Fourth, which is Sequoyah Hills and West Knoxville, but only slightly over 20% of likely voters thought it was unfair to allow teachers to evaluate McIntyre.
Slightly more women than men approved of the idea of allowing teachers to participate in evaluating the school superintendent.  The numbers among the varying age groups was almost identical.
When Mike McMillan was contacted about the results of this week's Focus poll, he said, "I cannot say I'm surprised.  There's no real reason to oppose the idea and it's just basic fairness.
"The superintendent and the Board should be no more afraid of the idea than the teachers should be. As the old saying goes, what's fair for the goose is fair for the gander."