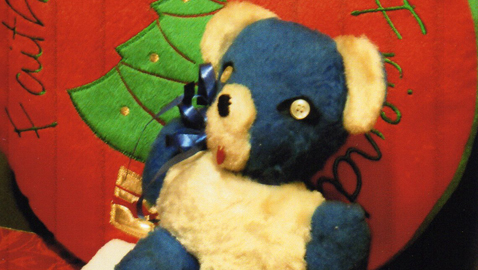 By Ralphine Major
It had buttons for its eyes and a red felt tongue. The little blue and white teddy bear has survived years of house cleanings. When other keepsakes were eventually discarded, the little blue bear always found its way back into our home and my heart. It was one of my Christmas gifts in 1964.
Mother remembers the day it came to our house. My brother was a second grader at the time. One afternoon, he jumped off the school bus as usual. Dressed in rolled-up blue jeans, he was  carrying books, his metal Roy Rogers lunchbox, and a brown paper bag. It was the brown paper bag that caught our mother's eye. "He held it tightly at the top," mother recalls. "He went straight to his room. None of us knew what was in it and we did not ask."
Christmas morning revealed the mystery. It was a hand-made teddy bear. A classmate's mother had made the bears for Christmas. It was not until I was writing this column that I learned who created this treasured gift. "Lois Zachary made the bear," Wayne told me. "I got it from David, her son." David is now deceased. I would not have known Lois then, but I do now. She is a long-time neighbor.  Mother said she still does not know how Wayne came up with the money to pay for it. My guess is that it was ice cream money he saved. "David may have given it to Wayne," Lois told me. "I gave alot of them away." Neatly stitched and stuffed, the tiny gift was unusual and special. It still is.
I have learned gifts come in different packages. In my writing, I often mention the words on my favorite wall plaque. They are always worth repeating: "Every day is a gift." In the glow of red, blue, green, and yellow lights, I enjoy the warm aroma from a hazelnut-scented candle and listen to the "Little Drummer Boy" playing softly. I look at those five simple words and cannot help but think about  nineteen Arizona firefighters who lost their lives in the line of duty and a Kentucky state trooper gunned down while picking up debris on the highway. I think of a young father fighting illness. I think of the homeless veteran we gave food and gifts each year only to learn he passed away just weeks ago. I think about a dear and special friend in a hospital across the state and the childhood friend I called on to bring her own East Tennessee touch to him. Our God does, indeed, work in mysterious ways!
The greatest gift was born in a manger over 2,000 years ago on Christmas Day. The Christ child came to bring hope to a dying world. We call him Saviour, Master, and Prince of Peace. He was crucified and buried, but defeated death when he rose from the grave three days later. His name is Jesus. May we all find renewed hope in the midst of our daily struggles because of Christ—the reason we celebrate Christmas. Merry Christmas and blessings for the new year, and may all of your days—your gifts–be wrapped in God's love.