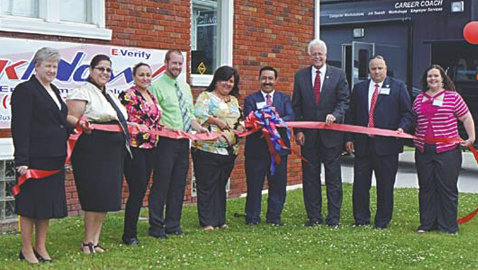 By Tasha Mahurin
tasha@knoxfocus.com
Earlier this summer  WorkNow! Inc., a staffing company based in Morristown, TN, held a grand opening event at their new office, located at 4704 North Broadway Street in Knoxville.  More than just a resource for employers seeking qualified candidates, WorkNow !, Inc. is committed to helping the unemployed community find jobs and positions with their clients or elsewhere.
WorkNow! Inc. has a history of serving businesses across the Southeastern United States- doing business as Rangel's Workman Force Supplier for almost 20 years.
Raul and Maria Rangel started their business in 1993 as contractors providing farm laborers to farmers in the greater East Tennessee area. They served local tobacco, vegetable, fruit and poultry farmers. In 1994 they began to supply temporary laborers to industry.
Through referrals and word of mouth, The Rangels' business continued to grow throughout the South Eastern US. In 1998, payroll processing was added to the services provided through the business. The business was incorporated in 2000 and has continued to grow steadily over the past decade, most recently in the form of  their North Knoxville office.
As part of the grand opening festivities, the career coach staff from the Tennessee Department of Labor and Workforce was invited to be on-site to help applicants update resumes.  They also offered guidance on interviewing skills and job searches.
"Our first month has been very successful," said Raul Rangel, president of the company.
WorkNow!  was pleased to be able to provide a space for the career coach staff  to offer their free services to all in the area that chose to attend.  When applicants were not meeting with staff or being assisted with job searches, they enjoyed a free lunch.
"We had a great response from local applicants and have been able to help many of them find jobs," he added.
By all accounts, the event was a huge success and allowed WorkNow! Inc. and its staff members to continue in their mission to meet the needs of their clients with the skilled and professional associates they desire, while helping jobseekers find positions that fit their skill set and abilities.
The Grand Opening was followed up by a Recruitment Fair held at WorkNow! Inc.'s home office located at 322 West Hillcrest Drive in Morristown on June 24th.