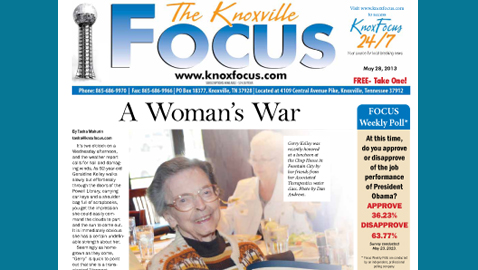 Click here to view this week's Focus.
A Woman's War
By Tasha Mahurin
tasha@knoxfocus.com
It's two o'clock on a Wednesday afternoon, and the weather report calls for hail and damaging winds. As 92-year-old Geraldine Kelley walks slowly but effortlessly through the doors of the Powell Library, carrying car keys and a shoulder bag full of scrapbooks, you get the impression she could easily command the clouds to part and the sun to come out. It is immediately obvious she has a certain undefinable strength about her.
Seemingly as home-grown as they come, "Gerry" is quick to point out that she is a transplanted "Vermont Yankee"- born in 1921 in St. Johnsbury. Although she has called Knoxville home since the early 1950s, her accent has retained a subtle New England flair. So it is with all the social grace of a true Southern woman, in a voice that hasn't quite acquired a local drawl, that Gerry begins her story.
When WWII began, Gerry was an attractive, tenacious young woman who found herself working a government job in Vermont. After that particular department closed, she moved to Springfield, Massachusetts and took a job with Westinghouse where she was quickly promoted to the head of the War Bond Department.
"Most everyone had money deducted from their pay for war bonds. When they had the price of a designated bond deducted we would buy the bond for them," she explained with a deftness that indicates she could still fluently complete the necessary paperwork 70 years later.
So, as it were, while the men fought overseas, Gerry, like many other women contributed to the war effort here at home.
It was also a woman's war.
Shortly after moving to Springfield she met a gallant young man stationed at Chicopee Air Base who was training to be a fighter pilot.
"His name was Harold Matthews Jr.," Gerry said wistfully. "We called him Mattie."
When she says his name there is a hint of girlish adoration in her voice followed by a fleeting moment of intense, profound sadness. When Mattie was later transferred to Texas to complete his training, Gerry visited for his graduation and met his parents. After a subsequent and proper visit to his hometown in Illinois, they became engaged. Mattie was assigned to Florida, and Gerry began to make arranagements to join him there. She remembers clearly a day when the landlady of the boarding house where she was staying at in Springfield called upstairs to say her brother was there.
"They tell me that I screamed as I came down the stairs, as there was standing, not my brother, but Mattie. He had been transferred back to Chicopee Air Base, and was getting ready to go overseas," she recalls.
They promptly planned to go to Connecticut the next weekend to be married, but Mattie shipped out on that Wednesday before they could make the trip. Mattie would never return home to Gerry. He was shot down on his next to last mission.
It was also a woman's war.
The grief was agonizing. Gerry reached out to her minister who told her she was lucky that Mattie hadn't returned home a cripple. It did little to ease her pain. She felt hopeless, lifeless. Some time later a grief counselor visiting her church advised Gerry to make a change.
"One of the girls, Bickie, in my department at work had a friend working for the Red Cross in Clubmobile. She was with the troops coming through Africa and Bickie would bring her letters in to read them to us," Gerry recalled.
Everyone encouraged her to join the Red Cross, and she did. At the time, the Red Cross required that women be 24 years of age before going overseas, so her official start date was set for May 14th, just after her 24th birthday. Gerry was sitting in a dentist chair on May 8, 1945 (VE Day), when she heard over the radio that the war was over in Europe. However, there was still much work to be done and her start date remained the same.
It was also a woman's war.
Gerry reported to Washington, D.C. to begin her training at Washington University where the Red Cross had a training facility called "The Loft." When her training was complete, she was told that she could notify her family that she was shipping out but not where or when. Gerry along with other young women who had volunteered with the Red Cross traveled to New York by train and were put up in a hotel for the night. Gerry recalls that two of the girls she was traveling with were African American, and the hotel would not allow them to stay there. The Red Cross was furious but promptly found the girls another hotel to stay in. She also remembers feeling anxious about the journey.
"I was almost afraid to board a ship as I had a couple of scary instances with water, but soon got over it, as we went on the original Queen Elizabeth," she said.
The trip took five days. On June 24th, Gerry crossed the English Channel and went by train to Paris. She was assigned to the Red Cross Clubmobile in Marseille, France. She initially worked the docks because she couldn't drive.
When she did decide to learn to drive, she had one driving lesson on the dock at Marseille in a ¾ ton weapon carrier. Just two weeks later she was driving a 2 ½ ton armored truck- which had been converted for Red Cross Clubmobile use.
"I eventually got a driver's license which stated I was able to drive just about everything from a jeep to a 2 ½ ton truck," she laughed.
It was also a woman's war.
VJ (Victory in Japan) Day occurred while Gerry was in Marseille. Despite the end of the war, Gerry continued her work with the Red Cross- and the scenery varied with each new assignment. Gerry recalls the day she was given a chair and a rifle and asked to guard prisoners while they worked on a building. She even once attended a party thrown by one of the generals in the district where she was serving. President Harry Truman's nephew played the piano that evening. She remembers fondly General George Patton for rescuing a herd of Lipizzaner stallions from Belgium where the Germans had taken them after seizing them in Austria. She visited the stables that he brought them back to.
Eventually, however, she was given a permanent assignment at Dachau- the concentration camp.
It was also a woman's war.
Dachau Concentration Camp had been liberated on April 29, 1945 by the 42nd and 45th Divisions of the U.S. Army.
"There was nothing so horrifying as the scene before us," wrote Bettie MacInnes, who was one of two women present the day after Dachau was liberated. "GIs assigned to clear bodies from the moat, from the garages, from the boxcars on the siding, from just about any place one could look, were being sick, were passing out, were wandering in a daze."
In an article, MacInnes describes the horror that was Dachau on April 30th: "to see one of these places was to know man's inhumanity to man," she wrote.
By the time Gerry arrived, the camp had been cleared of all prisoners and bodies, and they were in the process of converting the site into a memorial. Gerry was there on the first anniversary of the camp's liberation…Shortly thereafter, the Army closed its operation there and the boys went home. So did Gerry.
In 1946, Gerry returned to Germany for a second tour with the Red Cross where she attended the war crime trials at Nuremburg. However, when the USO opened a service club in the area, the Red Cross Club she worked with closed.
She married an MP First Sergeant and remained in Germany for some time afterward before the two returned home. Shortly after returning to the U.S., it became clear that the marriage was a mistake. Gerry went to work for DuPont in Delaware where she met the man she would build a life with, her husband Jim…a University of Tennessee graduate from South Carolina. After the two married in 1952, they relocated and had four children, and Gerry began the rest of her story here…in Knoxville.
Although the woman sitting across from me at the library is 92 years old, the eyes peering back at me have the youthful glint of a young girl working in the War Bond Department at Westinghouse but the wisdom of a woman who has seen firsthand the tragic impact of war and of genocide. Before me sits a woman who knows both love and loss, a woman who served her country by serving those who served her country, a woman who has built not only a life but a legacy, a woman who has earned her place it history…it was, afterall, also a woman's war.